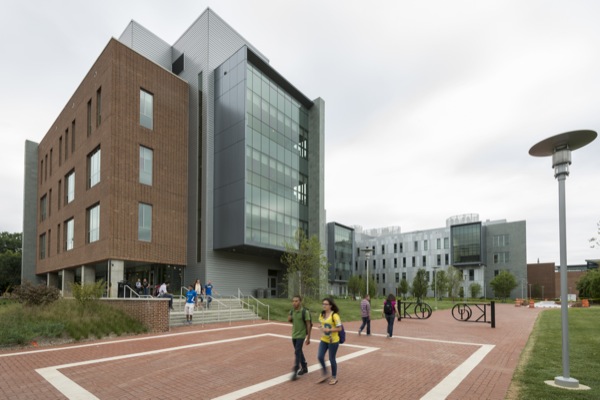 May 9: Green tour of ISE Lab
Green Liaisons to learn about ISE Lab in last lunchtime lecture of spring
11:41 a.m., May 7, 2014--The final University of Delaware Green Liaisons Sustainability Lecture of the spring semester will be a walking tour through the Interdisciplinary Science and Engineering Laboratory (ISE Lab) on Friday, May 9.
The tour will be facilitated by Gerry Galgon, ISE Lab senior project manager.
June 6: UDid It! Picnic
All UD faculty and staff members are invited to attend the annual UDid It! employee appreciation picnic, set from 11 a.m.-1:30 p.m., Monday, June 6, on The Green.
2FA protects you
If you are using two-factor authentication (2FA), even if a hacker has your password, your information is probably safe.
Galgon will present a brief talk about the sustainability features of the facility before embarking on a guided and informative tour of the ultra-modern building. 
The tour will start from outside the ISE Lab at noon on Friday, May 9, and is expected to take about one hour.
The ISE Lab celebrated its grand opening on Oct. 17, 2013, and was constructed following the standards of the U.S. Green Building Council's LEED Silver designation. It is an important hub of teaching and research on campus. 
The 194,000-square-foot facility brings together students and faculty from various disciplines to teach, learn and conduct research in a collaborative environment. 
ISE Lab engages students and is designed to stimulate excitement about science and engineering. It has four problem-based learning instructional laboratories that feature lab spaces adjoining classrooms so students can discuss a problem and then immediately test a solution. UD faculty members have designed curricula to optimally utilize these rooms.
ISE Lab is also a new home to the University of Delaware Energy Institute, the Delaware Environmental Institute and the Catalysis Center for Energy Innovation.
More about Green Liaisons Sustainability Lecture Series
Once a month, Green Liaisons are invited to attend a lunchtime presentation on the small steps that can be implemented by every student, faculty and staff member in order to make UD a greener place to learn, work and live.
All lunches in the Green Liaisons Sustainability Lecture series are open to Green Liaisons and will be held from noon to 1p.m.Topics and locations change monthly. Drinks and dessert are provided.
Members of the campus community who are not currently Green Liaisons but want to represent their department can contact Francis Karani at fkarani@udel.edu or Amy Snelling at snelling@udel.edu.
More information regarding the lunch schedule, past events and general information on the Green Liaisons Programs can be found on the website.