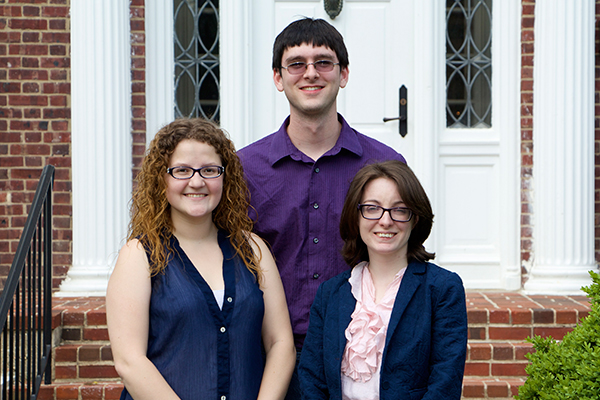 International studies
Graduating seniors win Fulbright, Critical Language scholarships
4:33 p.m., May 30, 2014--The University of Delaware has announced that three undergraduates have been presented with prestigious awards to fund international pursuits. 
Matthew Werth and Alyssa Hull have received Fulbright awards and Mackenzie Tyler has been named a Critical Language Scholar.
Fulbright awards
Three University of Delaware students and an alumna have received word this spring that they will travel abroad as part of the newest class of Fulbright Student Program award winners.
Peace Corps plans
Two University of Delaware students, John McCarron and Bridgette Spritz, have been selected as Peace Corps volunteers and will serve in Ghana and Rwanda.
2014 Fulbright Scholars
In a competitive application process, two Honors Program students, Matthew Werth and Alyssa Hull, have been accepted to the 2014-15 Fulbright U.S. Student Program, which is the flagship international exchange program administered by the U.S. Department of State.
Matthew Werth is graduating with an honors degree in Chinese studies and is also a triple language major – French, Spanish and Portuguese – with minors in biological sciences, economics and Latin American studies.
Werth received a Fulbright English Teaching Assistant Program scholarship and will teach English in Yilan, Taiwan, for a year.
In 2012, Werth received a Critical Language Scholarship, sponsored by the U.S. Department of State, for an eight-week summer session to study at the Beijing Language and Culture University in China. 
After coming home, he decided to study abroad for the 2012-13 school year at Xiamen University, and was selected for the Project Pengyou Leadership Summit at Harvard University.
"After spending a year in China, I fell in love with Chinese culture. I thought seeing a different side of it in Taiwan would be very rewarding," said Werth.
Werth combined his twin passions of serving others and exploring diverse cultures when he became a peer mentor to international student through the English Language Institute.  
Other activities he is involved in at UD include: Blue Hen Ambassador, Honors Peer Mentor, Swing Club, E-52 Student Theatre, 8 Bit Orchestra, Sign Language Club, and the Vocal Point a cappella group.
His passion for Chinese was first ignited because his two younger sisters were adopted from China. Before leaving for Taiwan, Werth will be taking a heritage trip with his 13-year-old sister to China.
"I think cross cultural communication is incredibly important and you can't really understand a culture until you speak their language," said Werth.
Alyssa Hull is earning dual honors degrees with distinction in chemistry and art conservation.
Hull received a Fulbright Research Scholarship and will be studying pigment change, including fading and degradation in master works and how to slow or stop the process, in Norway. She has deferred enrollment in a chemistry Ph.D. program at Duke University until she returns from Norway.
"I get really excited looking at data. When I am standing next to a painting I've always wanted to see, I am in awe," said Hull.
Hull is a recipient of the American Institute of Chemists Student Award and the Gene J. and Francese E. Schiavelli Undergraduate Research Fellowship.
While at UD, Hull reaffirmed her passion for art restoration while interning at Winterthur, where she was first able to have hands-on experiences in the conservation science lab. 
Last June, Hull traveled to Norway with Jennifer Mass, senior scientist at Winterthur and an adjunct assistant professor of art conservation to do analysis of the 1910 version of The Scream, housed in the Munch Museum.
Hull, an admirer of all art, especially impressionism, hopes to figure out why pigment is discoloring and restore works of art back to the original artist's intent. 
Critical Language Scholar
Mackenzie Tyler, a criminal justice major with minors in political science and sociology, has received a Critical Language Scholarship, sponsored by the Department of State, to study in Japan for two months this summer.
Tyler has been studying Japanese since her freshmen year at UD and is looking forward to the intensive language classes, where speaking English is not allowed.
Her passion for the language began when she was young and enjoyed anime and manga. 
"I would listen to Japanese and I thought it was such a pretty language I wanted to speak it myself," said Tyler.
Tyler traveled to Kobi, Japan, during a summer study abroad program, which helped her develop her language skills. She found herself dreaming in the language, and able to hold longer in-depth conversations.
"If a month could make such a difference, imagine what a greater understanding I will have after two months," said Tyler. 
After returning from Japan, Tyler will pursue a master's degree in criminology at Temple University, and hopes to one day work for the Department of State.
The Institute for Global Studies provides guidance and resources for members of the University community who wish to be considered for international scholarships and awards. IGS staff educate interested applicants via one-on-one meetings, group information sessions, and webinars on such awards as the Boren, Critical Language Scholars, Fulbright, Gilman, and Salzburg Fellows.
In addition, IGS distributes faculty and student global awards to support study abroad opportunities for undergraduate and graduate students at UD. Close to 40 percent of study abroad participants benefit from University-and donor- sponsored scholarship awards. More information can be found on the IGS website.
Article by Elizabeth Adams