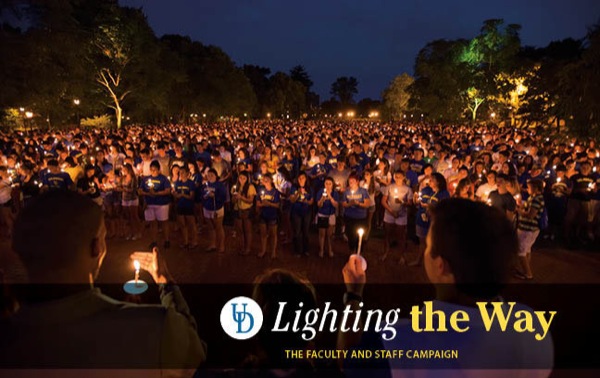 'Lighting the Way'
University launches annual Faculty and Staff Campaign
11:36 a.m., May 1, 2014--Following on the successful heels of its most recent Faculty and Staff Campaign, the University of Delaware has launched "Lighting the Way," a $1 million campaign that seeks 50 percent employee participation during 2014-15.
The previous campaign, which ran for two years, raised $1.8 million of its $2 million goal and witnessed a 32 percent participation rate, with faculty and staff giving to more than 700 different programs across the University. 
June 6: UDid It! Picnic
All UD faculty and staff members are invited to attend the annual UDid It! employee appreciation picnic, set from 11 a.m.-1:30 p.m., Monday, June 6, on The Green.
2FA protects you
If you are using two-factor authentication (2FA), even if a hacker has your password, your information is probably safe.
"Our collective support is an investment in our community, and together we help make UD's mission possible," says Monica Taylor, vice president of development and alumni relations. "Every gift matters, and every gift makes an impact."
Funds raised during the previous campaign have supported all seven colleges, ASPIRE, the Marching Band, ROTC, the general scholarship fund, and hundreds of other areas.
"We encourage you to give anywhere, to anything," says Donna West, one of 27 UD staff volunteers assisting with the campaign. "We want people to give to the areas that matters most to them."
For West, who has been a University employee for eight years, this meant making a donation to the psychology department in honor of her late father, who earned his Ph.D. there in 1964. 
"It was satisfying to give to something that meant so much to him," she says.
As assistant to the dean of students, West has also given to the Parent's Fund because of her firsthand account of how donations support the many student programs that need extra resources.
"It's wonderful to be here and see how my contributions are making a difference," she adds. 
Taylor echoes this sentiment. 
"With every gift, there is a story, and as members of the UD family, my colleagues and I know just how powerful these stories are," she says. "We hope faculty and staff will share theirs and 'light the way' for others to follow in their footsteps." 
The "Lighting the Way" campaign begins May 1 and runs until April 30, 2015. Faculty and staff are encouraged to donate to the campaign through payroll deduction. For questions about how to make a gift, please contact Dave Morris at 831-2899 or drmorris@udel.edu.