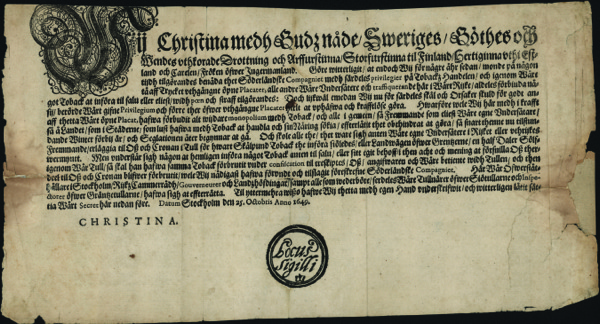 Through June 8: 'Early Delaware Documents'
Library exhibition features documents of Queen Christina, John Dickinson
1:20 p.m., May 12, 2014--The University of Delaware Library has announced a new exhibition, "Queen Christina and John Dickinson — Two Early Delaware Documents," which will be on display in the Information Room on the first floor of the Morris Library from Tuesday, May 13, through Sunday, June 8.
The exhibition will display two recent acquisitions made possible by the generous support of the University of Delaware Library Associates.
June 5: Blue Hen 5K
University of Delaware graduates planning to attend Alumni Weekend are encouraged to register for the annual Blue Hen 5K walk and run, which will be held Sunday morning, June 5.
June 6-9: Food and culture series
The 20th annual June Lecture Series at the Osher Lifelong Learning Institute at UD in Wilmington will be held June 6-9. Titled 'June a la Carte,' this year's program focuses on great political documents, feminism, world politics and a Newark cuisine sampler.
On view will be a Swedish broadside printing of a decree by Queen Christina issued on Oct. 25, 1649, withdrawing the exclusive right to import tobacco into Sweden formerly granted to the Swedish South Company, which in 1641 had been given the exclusive right to import tobacco from the New World.
Also on view will be a printed proclamation issued by John Dickinson, a member of the Continental Congress from Pennsylvania and Delaware whose writings earned him the title of "the Penman of the Revolution."
The proclamation was printed in Philadelphia by Francis Bailey in 1782.
At the time the document was issued, Dickinson held the office of president and supreme executive council of the commonwealth of Pennsylvania. In the proclamation, Dickinson decrees that all citizens of Pennsylvania must observe the Sabbath.
The curator of the exhibition is Timothy Murray, head of the Special Collections Department.