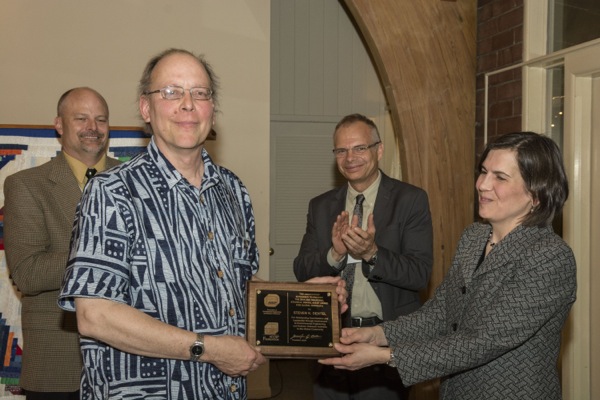 Engineering excellence
UD's Dentel receives global outreach award in his honor
12:02 p.m., May 19, 2014--Steven K. Dentel, University of Delaware professor of civil and environmental engineering, was honored as the namesake and inaugural recipient of the Association of Environmental Engineering and Science Professors (AEESP) Steven K. Dentel Award for Global Outreach.
This prestigious award recognizes Dentel for his "outstanding contributions and leadership through involvement in environmental engineering and science outreach activities to the global community" and will be presented to future recipients who display similar exemplary activities.
Fulbright awards
Three University of Delaware students and an alumna have received word this spring that they will travel abroad as part of the newest class of Fulbright Student Program award winners.
Peace Corps plans
Two University of Delaware students, John McCarron and Bridgette Spritz, have been selected as Peace Corps volunteers and will serve in Ghana and Rwanda.
Three previous presidents of AEESP traveled to Newark to present the award to Dentel: Jennifer Becker, professor at Michigan Technological University and current president of AEESP; Joel Burken, professor at Missouri University of Science and Technology; and Mark Wiesner, professor at Duke University.
Several UD leaders were in attendance for the ceremony including UD Provost Domenico Grasso; Babatunde Ogunnaike, dean of the College of Engineering; Harry (Tripp) Shenton, professor and chair of the Department of Civil and Environmental Engineering; as well as many colleagues and staff members from the department.
The AEESP is an international organization composed of over 900 professors, students and affiliates who work in the environmental engineering and science fields. Since 2009, Dentel has served on the organization's board of directors and has made several contributions to the organization including the creation of their electronic ballot system.
As a recognized expert in water processing, Dentel has played a key role in UD's environmental engineering community. He was instrumental in the development of the environmental engineering bachelor of science program and UD's Engineers Without Borders (EWB) chapter, where he currently serves as a faculty adviser.
Dentel is equally important in the global community. Since the creation of UD's EWB chapter in 2006, Dentel has led over 40 EWB students on multiple trips to Cameroon where they have worked on projects to develop systems for clean and sustainable water supplies for local villages. 
After initial research and assessments, Dentel and his students helped build sand filtration units, solar-powered pump wells and a ferrocement storage tank, and provided villagers with operation and upkeep instructions for the systems.
"Steve has dedicated his life to making a difference in the lives of students and of those who are less fortunate around the world," said Shenton. "UD's EWB chapter would not be what it is today were it not for Steve and its dedicated students."
Dentel's research, which recently received Phase 2 funding from the Bill & Melinda Gates Foundation, focuses on a breathable fabric to help protect water sources. This novel fabric can be used in sanitary facilities such as latrines to promote waste drying and stabilization, mitigating the spread of diseases.
With help from the non-profit organization WaterAid, Dentel has been working to install the technology in Kanpur, India, and also hopes to introduce it to wastewater treatment facilities in the U.S. and overseas.
"I've been so fortunate to have so much support here at UD," Dentel said. "From talented undergrad researchers up to faculty and administrators who see the value of community engagement, many people have made this award possible."
Dentel was recognized and presented the AEESP Steven K. Dentel Award during the UD EWB annual benefit dinner on Thursday, May 1.
Article by Jessica Zoch
Photo by Doug Baker