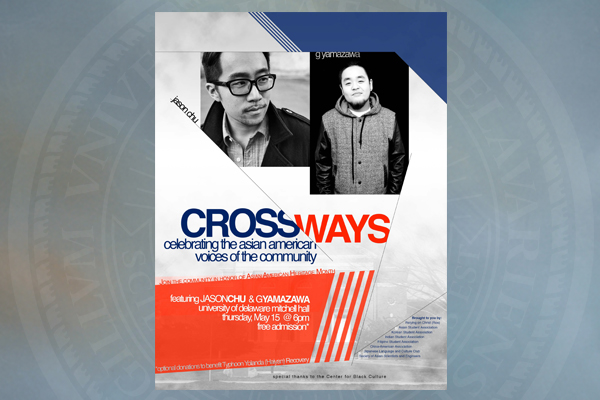 May 15: Asian American voices
Free event to celebrate Asian American voices of community
8:25 a.m., May 13, 2014--"Crossways: Celebrating the Asian American Voices of the Community," featuring rapper Jason Chu and poet G Yamazawa, will be held at 6:30 p.m., Thursday, May 15, at Mitchell Hall on the University of Delaware campus in Newark.
The event is free, with an optional donation to Typhoon Yolanda (Haiyan) recovery efforts. Doors will open at 6.
June 5: Blue Hen 5K
University of Delaware graduates planning to attend Alumni Weekend are encouraged to register for the annual Blue Hen 5K walk and run, which will be held Sunday morning, June 5.
June 6-9: Food and culture series
The 20th annual June Lecture Series at the Osher Lifelong Learning Institute at UD in Wilmington will be held June 6-9. Titled 'June a la Carte,' this year's program focuses on great political documents, feminism, world politics and a Newark cuisine sampler.
It is being held in honor of Asian American Pacific Islander Heritage Month.
Chu and Yamazawa highlight the complexities of the Asian American Experience through their art and performance.
The presentation is brought to UD by RoX (Asian Christian Fellowship), the Asian Student Association, the China-America Association, the Japanese Language and Culture Club (Nihongo Table), the Korean American Student Association, the Indian Student Association, the Filipino Student Association, and the Society of Asian Scientists and Engineers. 
It is being supported by UD's Center for Black Culture.
For details and biographies on the artists, see the Facebook event page.