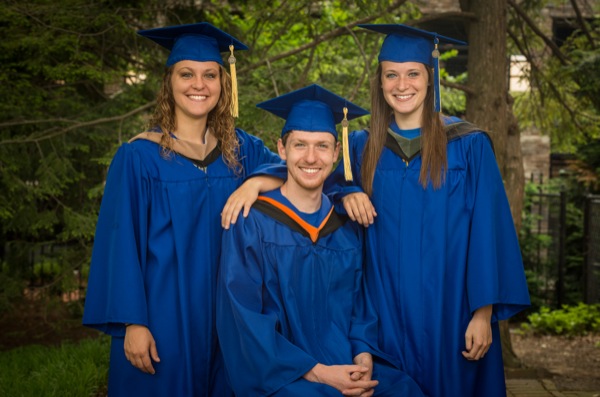 Thrice as nice
UD Class of 2014's Manning triplets graduate together
4:30 p.m., May 31, 2014--When the Manning triplets received their degrees at the University of Delaware's Commencement ceremonies on Saturday, May 31, it marked the culmination of a shared educational journey that began in kindergarten at Hickory Flat Elementary School in Woodstock, Georgia.
Now officially Blue Hen alumni, Leslie, Stephanie and James Manning were born one minute apart -- in that order -- at Christiana Hospital in Newark on April 20, 1992. 
From graduates, faculty
As it neared time for the processional to open the University of Delaware Commencement ceremonies, graduating students and faculty members shared their feelings about what the event means to them.
Doctoral hooding
It was a day of triumph, cheers and collective relief as more than 160 students from 21 nations participated in the University of Delaware's Doctoral Hooding Convocation held Friday morning on The Green.
For parents James and Andrea Manning, the joy has been to watch their children grow up together while developing their own individual personal identities.
"All of our kids have the same core values of morality, ethics and view of life, yet from the day they were born you could sense their different personalities," said father James Manning. "The challenge as parents was to take the time to understand their likes and dislikes and let them explore and develop the ones they were most interested in." 
Described by her father as a natural athlete with the first-born trait of leadership, Leslie Manning was the first to excel in sports. 
"Leslie played and excelled in volleyball, basketball and soccer, and as a result of this love for sports she double majored in sports management and marketing," Manning said. "Leslie has worked with UD football team for four years, primarily as an equipment manager, and will be doing her final internship this fall with the football team at the University of Tennessee at Chattanooga." 
While Stephanie Manning, as a middle child, was more reserved, she developed an early love and talent for art while approaching sports in a different way, her father said.
"She became a student of every sport she played, and her analytical skills helped her develop into a very good volleyball, basketball and softball player," Manning said. "Stephanie is majoring in exercise science and will graduate cum laude. She has a minor in strength and conditioning and her next step is to get into a physical therapy graduate program." 
Son James Manning, described by his father as the "baby by a minute," has always been the inquisitive one, and was always trying to figure out how things work -- why they did what they did and what could make them better.
"With his love for science and skills in math, he decided to work in biomedical engineering," Manning said. "My son will be in the first graduating class with that major, and will graduate cum laude with a minor in bioelectrical engineering." 
Leslie Manning recalls that growing up, the siblings were never allowed to be in the same classes together before college, but she did have the opportunity to take a couple of classes with her brother James at UD.
"To be able to spend this time together, especially knowing that I get to sit with my brother and sister at Commencement after all the hard work we've put into school, is such an honor," she said. "Being able to spend my college experience with two people that mean the world to me is indescribable." 
A self-described introvert, Stephanie Manning said that sharing her UD experience with James and Leslie definitely helped ease the shock of college and new people. 
"I usually did not see my brother unless it was on the UD bus, because we both had so many labs all four years, but when we all found time to go to a sporting event it was pretty neat," she said. "I was able to see my sister a lot more because our breaks tended to overlap and we were able to catch up and talk until we had to go to class. It made our talks easier because Leslie always knew what was going on in my life." 
While all three siblings were not able to take a class together, they did take classes with one another and would share rides on the buses, brother James Manning said. 
"This did make the chance encounters at Trabant or in the hallways that much more special," he said. "It was always fun to see how people reacted when we introduced ourselves as triplets. Only a few people actually managed to meet all three of us independently, and I'm sure those lucky few counted it as an achievement."  
Manning also appreciated the support he received as one of the first students to graduate with the new biomedical engineering major. 
"The department pulled out the stops when it came to accommodating us and giving us the tools we needed to be successful," he said. "It was an opportunity to apply what we have spent years learning, with the focus of designing and creating a solution to a problem. I wouldn't trade that experience for any other while at UD." 
Post-graduation plans for the Manning triplets include entering the workforce for James, and working for a year and applying to graduate school for physical therapy for Stephanie. Leslie wants to apply for a job while continuing to run the photography business she started. 
For their parents, getting used to an emptying house will be a challenge, but Andrea and James Manning are looking forward to the transition for themselves and their triplets.
"From the day they were born, it has been a fast-paced, never-a-dull-moment experience," father James Manning said. "As we look back on the 22 years, we have been truly blessed. Watching them love each other, fight with each other and support each other on their different paths has been a joy."
(Editor's note: A decade earlier another set of triplets, the Muchnicks, graduated together in UD's Class of 2004.)
Related stories and resources
• UD held its 165th Commencement ceremony under sunny skies on Saturday.
• Follow the conversation on social media by checking out UD's Commencement Storify page.
• See Commencement photographs at UD in Photos.
• A video of Commencement is available.
• Honorary degrees were presented to four outstanding individuals.
• Ten members of the Class of 2014 were honored as high index seniors, with perfect grade point averages.
• A doctoral hooding ceremony was held on Friday.
• The UD Honors Program held a celebratory breakfast on Friday.
Article by Jerry Rhodes