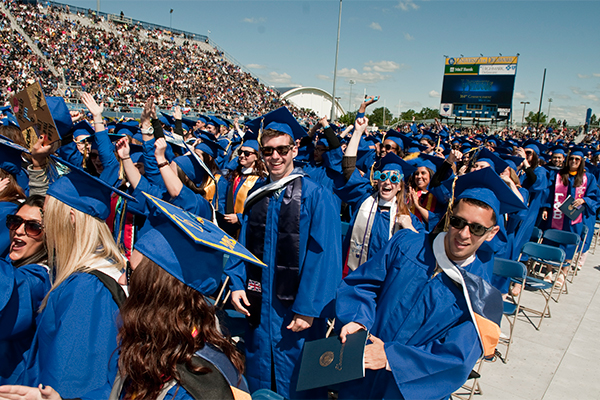 Commencement nears
Early arrival urged for Commencement featuring Vice President Joe Biden
4:55 p.m., May 27, 2014--With the University of Delaware's 165th Commencement approaching on Saturday, May 31, graduates and guests are encouraged to arrive early at Delaware Stadium to allow ample time for security processing, as the Commencement address will be delivered by Vice President of the United States Joe Biden, a UD alumnus. 
The ceremony will begin at 9 a.m. in Delaware Stadium, rain or shine, and it is free and open to the public.
From graduates, faculty
As it neared time for the processional to open the University of Delaware Commencement ceremonies, graduating students and faculty members shared their feelings about what the event means to them.
Doctoral hooding
It was a day of triumph, cheers and collective relief as more than 160 students from 21 nations participated in the University of Delaware's Doctoral Hooding Convocation held Friday morning on The Green.
Tickets are not required for general seating; however, tickets are required for the area accommodating the elderly and those with disabilities. 
Due to increased security for this event, those planning to attend should arrive as early as possible. All attendees will be required to go through airport-style magnetometers, and items, such as bags, bottles and umbrellas, will be prohibited. 
Students should arrive no later than 7 a.m., lining up on the football practice fields behind the Delaware Field House in preparation to pass through magnetometers and then on into the stadium. The first students will enter the field at 8 a.m.
For guests, gates will open at 6 a.m. Attendees are strongly encouraged to arrive between 6-7:30 a.m. to bypass traffic delays and avoid potential lines at the security checkpoint well in advance of the ceremony start.
Be aware that there may be delays with traffic and long lines to enter the stadium.
Guest seating is first come, first served. Reserving seats is not permitted. Security personnel reserve the right to deny admittance to any individual.
Attendees should understand that most bags – including handbags -- will not be allowed into the stadium unless absolutely necessary.
Students and guests can bring cell phones, smart phones and small cameras.
For specific information, visit UD's Commencement website, which will be updated as additional details become available.
For more information, write to commencement@udel.edu or call 302-831-6290.