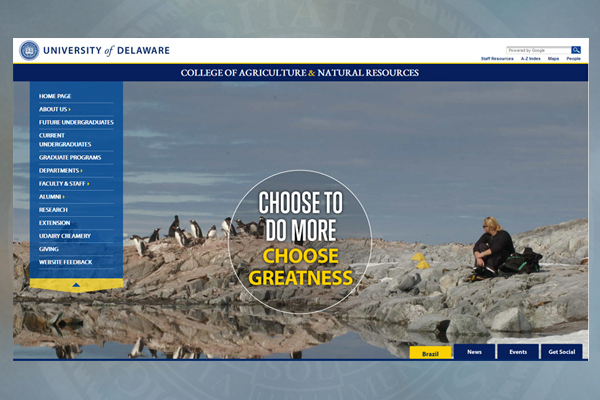 CANR website
UD College of Agriculture and Natural Resources unveils new website
11:23 a.m., May 27, 2014--The University of Delaware College of Agriculture and Natural Resources (CANR) has launched a dynamic, photo-driven website aimed at attracting future students.
The website went live in the spring and features easily accessible links to CANR news, events and all of the college's social media platforms, as well as a rotating assortment of photographs to illustrate all of the exciting research and events happening at the college.
From graduates, faculty
As it neared time for the processional to open the University of Delaware Commencement ceremonies, graduating students and faculty members shared their feelings about what the event means to them.
Doctoral hooding
It was a day of triumph, cheers and collective relief as more than 160 students from 21 nations participated in the University of Delaware's Doctoral Hooding Convocation held Friday morning on The Green.
CANR Dean Mark Rieger said of the website, "Our new website was designed to put students' needs first. We wanted to give prospective students and their parents a vision of what it would be like to be enrolled here and the careers they might anticipate upon graduation. I am additionally pleased that it has the 'wow factor' to maintain interest and encourage deeper exploration."
Prior to the development of the website, feedback was gathered from current CANR undergraduate and graduate students, as well as high school students and UD students outside of CANR, on what they wanted to see in a college website. The students indicated that they wanted updated news and fresh content, while also expressing an interest in learning more about faculty research and possible jobs they would be able to secure upon graduation.
Since the launch of the site, the feedback has been positive with visitors commenting that the site is engaging, organized, concise and very easy to navigate.
One visitor in particular said of the site, "Wonderful! Very colorful and engaging. It feels like a diverse and accurate representation of all the great work CANR is doing." 
Along with the site, the college also unveiled a new set of slogans: "Do more than learn, grow; do more than think, understand; do more than engage, belong; choose to do more, choose greatness." 
The site design was created by 2Fish, a logo, graphic and web design studio based out of Wilmington, Delaware, and designed with input from UD's Office of Communications and Marketing. 
Management of the website is now under the direction of the CANR communications team.
Feedback and questions can be filled out on the website's feedback form, which can be found here.