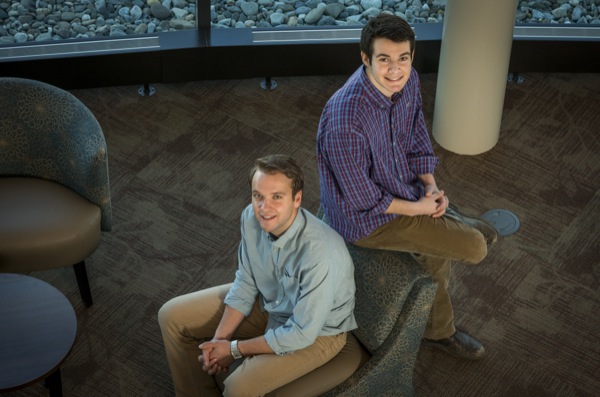 'Be The Match'
UD roommates donate life-saving bone marrow
10:43 a.m., May 1, 2014--Jordan Sack and Matthew Heck have a couple of things in common with Atlanta Falcons linebacker Paul Worrilow.
They're all Blue Hens, and they've all donated bone marrow to save someone else's life.
'Resilience Engineering'
The University of Delaware's Nii Attoh-Okine recently published a new book with Cambridge University Press, "Resilience Engineering: Models and Analysis."
Reviresco June run
UD ROTC cadets will run from New York City to Miami this month to raise awareness about veterans' affairs.
Because Worrilow is in the NFL, he received national attention for enabling a woman with leukemia to have a potentially life-saving marrow transplant last year.
Sack and Heck would like the same kind of attention — but not for themselves.  The two University of Delaware seniors want people to know that being a bone marrow donor has gotten a bad rap.
"When I found out that I was a match, everyone told me how painful it would be to donate," says Heck. "But I actually experienced little more than a sore back. Two days after my surgery, I was at my family's house in Marlton, New Jersey, grilling in the back yard."
Sack agrees. "Having my wisdom teeth pulled was much worse than donating bone marrow," he says.
Heck underwent his procedure at Georgetown University Hospital, while Sack donated at Christiana Care in Newark. Both say they were treated like heroes, but they are reluctant heroes at best. The only reason they're so willing to share their experience publicly is that they want to convince more people to enter the "Be The Match" registry so more lives can be saved.
"I don't feel like a hero," Heck says. "It was a simple one-hour surgery."
Sack adds, "It's not like going into battle."
The two tag-team the telling of their story, and they marvel at its improbability.
"We're roommates," Sack says. "The chance of any person in the registry actually being called on to donate is less than one in 500. What are the odds that both of us would be perfect matches for patients in need?"
The pair are not only roommates but also fraternity brothers in Sigma Phi Epsilon.  To fulfill a community service requirement, they attended the "Get In The Game - Save A Life" event sponsored by the UD football team last May.
"It takes about 10 seconds to get your cheek swabbed, which seemed like a really simple way to get credit for a couple of hours of community service," Sack says. "We just figured, 'Why not put ourselves out there? We might save a life.'"
Transplants of bone marrow or cord blood are often the best treatment option or even the only possibility for a cure for patients with leukemia, lymphoma, sickle cell anemia, immune system disorders, and a number of other diseases.
Although the procedures are successful in saving lives only about 60 percent of the time, Sack and Heck know they did what they could in providing a chance for two people with leukemia. Heck's recipient is now cancer free, while the outcome for Sack's beneficiary is still unknown, as his surgery took place more recently. 
During the first year after a transplant, all donors and patients remain anonymous, but both Sack and Heck hope to eventually meet the people who literally became their "blood brothers" through the procedure.
For now, it's enough for them to know that their donations have already begun having an impact beyond the patients who received their marrow.
Heck's father, who is a physician, has started to stock cheek swab kits in his office, and he urges all of his patients to become part of the registry.
Heck and Sack have become crusaders for the cause.  "We just want to get as many students as possible to come out and become registry members," Sack says. 
As the Be The Match website points out, "The cure for blood cancers is in the hands of ordinary people."
Both students want everyone to know that they're just ordinary people. If they can do it, anyone can.
About Jordan Sack and Matthew Heck
Jordan Sack and Matthew Heck are both members of the UD Class of 2014. Sack, who is from Springfield, New Jersey, has a double major in marketing and entrepreneurship and technology innovation, with a minor in interactive media. From Marlton, New Jersey, Heck is majoring in hotel, restaurant and institutional management.
About Be The Match
Over the past 25 years Be The Match, operated by the National Marrow Donor Program, has managed the largest and most diverse marrow registry in the world. The organization helps patients by maintaining the registry, providing patient support services, raising funds, conducting research, and providing transplant education. It also maintains a global transplant network that includes more than 600 centers worldwide, including transplant centers, cooperative registries, and cord blood banks.
Article by Diane Kukich
Photo by Kathy F. Atkinson