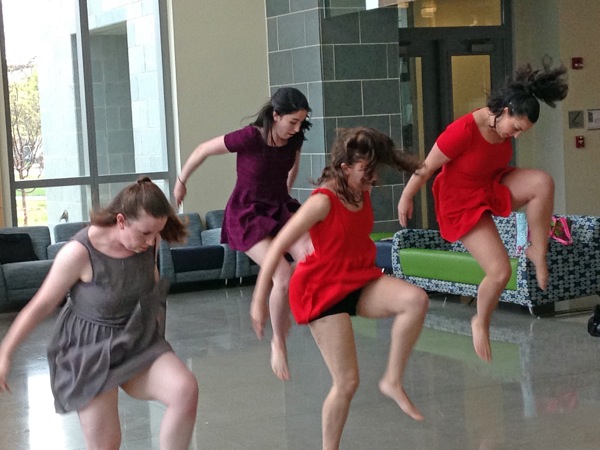 Art in ISE Lab
Inaugural program highlights undergrad research in the arts
3:09 p.m., May 19, 2014--The University of Delaware Office of Undergraduate Research and Experiential Learning (UREL) sponsored an inaugural Undergraduate Research in the Arts program in the Interdisciplinary Science and Engineering Laboratory (ISE Lab) on Friday, May 9. 
Conceived by Lynnette Overby, past UREL director, professor of theatre and coordinator of the ArtsBridge program, the celebration began with a drumming performance by students from the Gateway Lab School in Centreville, Delaware, where Overby and her students have worked to develop arts enrichment programs. 
Chronic wounds
UD's Millicent Sullivan and Kristi Kiick have received a $1.4 million grant from the National Institutes of Health for research that could provide a new approach to the treatment of chronic wounds.
Prof. Heck's legacy
The American Chemical Society is highlighting the legacy of the late Nobel laureate Richard Heck, the Willis F. Harrington Professor Emeritus of Chemistry at the University of Delaware with a digital tribute on its publications website.
Following the performance, several UD student artists exhibited work ranging from Narae Kim's reconstruction of Caravaggio's The Musicians using recreated materials matching the historical original paints, to Ryan O'Dowd's presentation of 3D computer-generated images, a field in which he plans to work after graduating this month. 
The program, in front of an audience of 75 students and faculty, ended with Samantha Gartley's Steer, a dance performance in three movements exploring themes of control and expression. 
Said Iain Crawford, faculty director of UREL, "A program like this, in a space that has become a key player in the intellectual life of the campus, perfectly captures the interdisciplinary potential of the arts and embodies the ways in which student undergraduate research and creative activity expresses itself through disciplines across the University." 
Photo by Iain Crawford