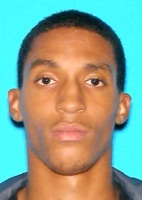 Theft charges
UD Police arrest Wilmington man in connection with campus thefts
3:55 p.m., May 16, 2014--University of Delaware Police have arrested Ahmon Mason, 21, of Wilmington, in connection with several thefts on campus over the last two months.
The thefts, which occurred in central campus offices and laboratories, included cell phones, currency and other unattended property.
After UD Police circulated images of the suspect to the media, a tip led to the identification of Mason, who turned himself in to UD Police on Thursday, May 15.  
Mason was video arraigned at JP Court 2 on seven counts of burglary, 12 counts of theft, one count of receiving stolen property and 10 counts of trespass. He was committed to the Howard R. Young Correctional Institution in lieu of $34,010 secured bond.  
Anyone with additional information relating to this investigation is asked to contact University of Delaware Police at 302-831-2222.
Members of the University community are reminded to secure their personal property and to not leave belongings unattended. 
Visit this website to receive a UD Crime Alert email whenever an article about a police investigation is posted on UDaily. 
Photo courtesy of University of Delaware Police