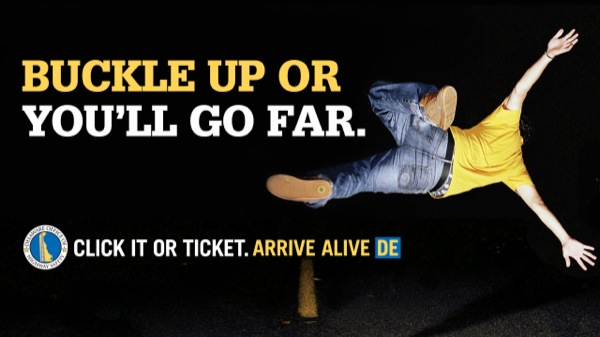 Click It or Ticket
Campaign encourages seatbelt use
11:23 a.m., May 16, 2014--University of Delaware Police are participating in the statewide Click It or Ticket seat belt enforcement campaign, which runs through May 27. 
As part of the campaign, daily enforcement traffic safety checkpoints and saturation patrols are being conducted day and night throughout Delaware. Much of the enforcement is occurring in the afternoons and evenings when the majority of unrestrained injuries and fatal crashes occur.
June 6: UDid It! Picnic
All UD faculty and staff members are invited to attend the annual UDid It! employee appreciation picnic, set from 11 a.m.-1:30 p.m., Monday, June 6, on The Green.
2FA protects you
If you are using two-factor authentication (2FA), even if a hacker has your password, your information is probably safe.
So far, Delaware's unrestrained fatal crashes in 2014 are outpacing the number for the same time last year. At this time last year, 29 percent of fatal vehicle occupants were not wearing seat belts, compared to 50 percent this year. 
"For every death or injury on our roadways, we must look for ways to reduce these tragedies," said Lewis D. Schiliro, secretary of the Delaware Department of Safety and Homeland Security. "Wearing a seat belt significantly decreases the risk of being seriously injured or killed in a crash. Remembering to buckle up for each and every trip is a simple way to prevent injuries and save lives."
Delaware law requires drivers and all passengers, including those in the back seat, to wear a seat belt. An officer can pull over a driver if any person in the vehicle is not wearing a seat belt, even if there is no other violation.  Officers will be issuing citations for seat belt violations as part of a zero tolerance policy. The ticket, which goes to the driver no matter who is unbuckled in the vehicle, totals $83.50.
Statistically speaking
Seat belts save lives. Consider these facts:
• Wearing a seat belt decreases your risk of being seriously injured or killed in a crash by approximately 50 percent.
• Strong seat belt laws protect families. When parents are buckled up, 90 percent of the time their children are, too.
• Hospital data shows that unbelted occupants in crashes are three times more likely to require a hospital stay. On average, hospital costs for an unbelted crash victim are 55 percent higher than those for a belted crash victim.
For more information on Click It or Ticket campaign and enforcement results, visit www.ohs.delaware.gov/seatbelts, like the campaign on Facebook at www.Facebook.com/ArriveAliveDE or follow on Twitter at www.Twitter.com/DEHighwaySafe.