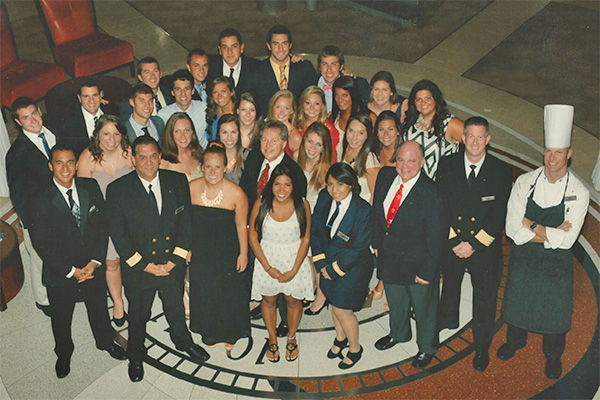 World of wine
Students experience wine across the globe, bring lessons back to Vita Nova
4:13 p.m., March 10, 2014--As if studying abroad in Australia and New Zealand weren't exciting enough, add to that the setting of a study at sea, vineyard visits and wine tastings, and you just might begin to get a taste of the University of Delaware Department of Hotel, Restaurant and Institutional Management's beverage management course.
Designed to emphasize the variety of legal and ethical issues associated with serving alcoholic beverages and provide an in-depth study of wine, mixology, inventory control and profitable beverage management, the course offered over Winter Session gave students the discovery experience of a lifetime. They have been able to apply their newfound knowledge at the Vita Nova restaurant on campus.
Fulbright awards
Three University of Delaware students and an alumna have received word this spring that they will travel abroad as part of the newest class of Fulbright Student Program award winners.
Peace Corps plans
Two University of Delaware students, John McCarron and Bridgette Spritz, have been selected as Peace Corps volunteers and will serve in Ghana and Rwanda.
"By visiting two wine countries that produce 'New World' varietals, we were able to explore the scenic seaside and open up our minds and our taste buds to unfamiliar wines," said Emily Paul, a UD senior majoring in English. "It gave majors and non-majors alike an experience unlike any other. Non-majors were able to experience Vita Nova in a unique way and majors were able to deepen their interest and their experience within the restaurant setting."
Under the direction of Fred DeMicco, ARAMARK Chair in Hotel, Restaurant and Institutional Management, and Brian Miller, associate professor of HRIM, the students' main task was to create a hypothetical wine list to pair with dishes on this spring's dinner menu at Vita Nova, UD's award-winning, student-managed restaurant housed in the Trabant University Center.
"The goal of the wine list development assignment was for our students to use their in-country wine and food experiences to add potential value to Vita Nova, thus providing an applied and practical international experience," said DeMicco. "They learned about the unique wines of Australia and New Zealand through tours and tastings, and we used this as a way to translate those lessons directly to the prospective guest experience. And not all students were from HRIM, so we were also able to expand learning across UD."
For the study at sea portion, DeMicco said students sailed from Sydney to the wine regions of New Zealand, which opened their eyes to Tasmania, Marlborough and Hawkes Bay, "iconic wine regions in the Southern Hemisphere."
Venka Pyle, director of restaurant operations at Vita Nova, said the food and wine-pairing knowledge gives students "a great competitive advantage when they go out in the industry, as more and more restaurants and hotels do wine pairings with their menus."
Paul was grateful for the hands-on experience and called the assignment "focus-oriented and exciting."
"Students were able to purchase wines in town, sample them and determine if they would pair nicely with specific menu items," said Paul. "We also learned proper tasting techniques in class, allowing the aromas and taste qualities to be savored and enjoyed." 
So as you sit down at Vita Nova this spring and order the grilled vegetable ravioli, what beverage should you select?
Consider the Nobilo Icon Sauvignon Blanc from Marlborough, New Zealand, which boasts a "medium to full body" that "works very well with the grilled vegetable ravioli due to its white pepper tastes," suggested students Oliver Emsallem, George Gradwell and Joshua Vogel.
Pyle acknowledged that she couldn't put every beverage on the menu – just the Nobilo Icon is on there now – but said there is always hope that other wines and beers might find their way onto the list.
Should that happen, Emsallem, Gradwell and Vogel also suggested a glass of the Mallee Point Moscato of southeastern Australia, which features "hints of spices and floral aromas that pair very well with the sugars released while grilling and caramelizing the vegetables." 
If wine isn't your style, the students suggested a bottle of Four Pines Kolsch, an ale from New South Wales, Australia, that contains a hint of citrus that gives "a hint of lemon to the ravioli" and features "buttery flavors throughout the malt that complement the creamy flavors featured in this entrée."
Prefer the oven roasted Scottish salmon?
Seth Bergman, Len Belotti and Brandon Cordovi took the dish's popularity into account when they decided on the New World pairing of a 2010 Domaine Christian Salmon Sancerre Savignon Blanc from the Loire Valley.
This white Sancerre, with a "brilliant and pale gold color with subtle green highlights" is made exclusively with Sauvignon Blanc grapes grown on the clay limestone slopes of Bué, said the students.
"We chose this because the nose is intense, with good balance between freshness, fruit, vivacity and finesse that complement its minerality," said the students. "Notes of citrus fruit and lime on the palate with a touch of mint will help cleanse the palate and pair well with the salmon and lemon kale."
And don't forget the cheese course. Think you'll try a Fourme d'Ambert blue cheese? Have a glass of the Chateau La Tour de Mons Margaux, a 2010 red "with medium body" that gives both wine and cheese an "explosive flavor combination," suggested students Alex Heath, Lee Kinsella and Tyler Lefky.
The beverage pairing also extended to beer, with one group of students suggesting diners think outside the box.
"Some may consider it sacrilege to pair a juicy, delicious filet mignon with beer, but if you are not a wine fan, there are some amazing beers that can be combined with a nice filet mignon," said Heath, Kinsella and Lefky.
Their first pick? An Australian craft IPA labeled Sleeping Giant.
"An IPA is a good choice to stand up to the meaty flavor in a filet mignon because it is hop-driven with notes of dark stone fruit and citrus," said Lefky. "This beer will cut through the minimal fat of the filet and let you enjoy the full flavor as well as accentuate the delicateness of the mean with its slight fruit notes."
"I found this assignment to be enlightening and riveting," added Kinsella, a computer science major. "It really gave me a true appreciation of wine."
Article by Kathryn Meier