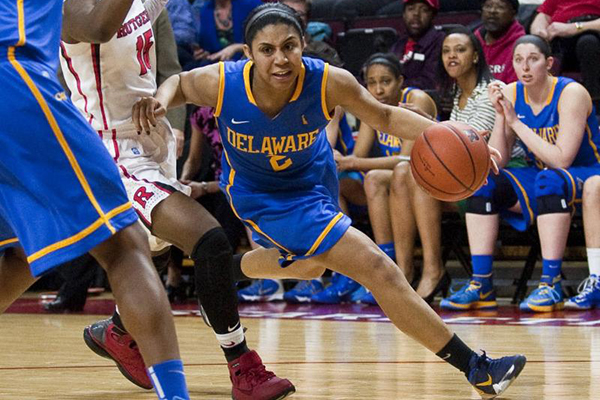 WNIT
UD women's basketball falls to Rutgers in opening round of WNIT
9:22 p.m., March 20, 2014--The University of Delaware women's basketball team fell 65-61 to Rutgers University in a first-round game in the postseason Women's National Invitation Tournament (WNIT).
Sophomore Courtni Green led the Blue Hens with a career-best 19 points, including five three-point baskets. The guard added six rebounds and two assists. 
Rower honored
University of Delaware junior Claire Brown has been named second team Collegiate Rowing Coaches Association All-Region.
Unsung Hero
The One Love Foundation has announced that University of Delaware men's lacrosse standout Elijah Conte has been selected as a winner of the 2016 YRL Unsung Hero Award.
Redshirt sophomore Joy Caracciolo tied a career-best 17 points and had a team-high eight rebounds. Junior Stephanie Leon had a defensive gem, with five blocked shots.
The Hens challenged Rutgers the entire game, with the teams exchanging the lead four times. The score was tied eight times.
Despite being a young team, UD (20-11) exceeded expectations, finishing second in the Colonial Athletic Association and reaching 20 wins.
"For their first WNIT experience, our kids followed the game plan very well," UD head coach Tina Martin said. "We gave ourselves the opportunity to stay in the game and certainly to win the game. This is a very young basketball team and our kids held their composure very well. They stepped up and put their best foot forward with a very good Rutgers team. Delaware has a tradition of winning and this young group will be back to postseason action in the future."
"It was a good experience to be able to play in the postseason and with that, play a good team like Rutgers," Green said. "We took it all in, listened to our coaches, came out and gave our best effort against a tough team."
Caracciolo added, "This game was a good way to end our season as it gave us more experience to play in the postseason and against such a good team as Rutgers. Being able to stay with them throughout the game gives us a lot of confidence going in to next season."
Rutgers (23-9) had four players score in double figures and was led by Tyler Scaife's 22 points while Betnijah Laney registered a double double of 10 points and 12 rebounds.
Photo by Duncan Williams