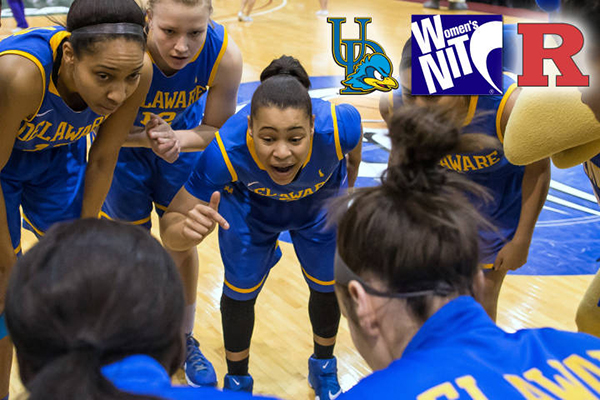 Hens in WNIT
UD women's basketball to visit Rutgers in WNIT opener
8:08 a.m., March 18, 2014--The University of Delaware women's basketball team has been selected to compete in the Women's National Invitation Tournament (WNIT) and will open against Rutgers University on Thursday, March 20, in Piscataway, N.J.
Tip off will be at 7 p.m.
Rower honored
University of Delaware junior Claire Brown has been named second team Collegiate Rowing Coaches Association All-Region.
Unsung Hero
The One Love Foundation has announced that University of Delaware men's lacrosse standout Elijah Conte has been selected as a winner of the 2016 YRL Unsung Hero Award.
"We are excited to be participating in the 2014 Postseason WNIT and to play against Rutgers for the first time in program history in over 35 years," said head coach Tina Martin, who is in her 18th season at Delaware. "This gives our young squad another terrific opportunity to play in the postseason and gain more experience. We have had tremendous support from our fans all season and hope that they can make the trip to see us play in Piscataway."
The Blue Hens are 20-10 on the season and finished second in the Colonial Athletic Association.
Delaware, an NCAA Sweet 16 participant last season, had its hopes for a third consecutive CAA title and trip to the NCAA Tournament dashed on Sunday afternoon as the Hens fell to James Madison University.
The Hens return to the postseason for the fifth consecutive year and will appear in the WNIT for the seventh time in school history. UD has never won in the postseason WNIT.
Rutgers currently stands at 22-9 overall and finished in fourth place in its first season in the American Athletic Conference. The team is led by legendary Hall of Fame coach C. Vivian Stringer, who has amassed 923 career victories in 43 seasons as a head coach at RU, Iowa and Cheney.
Delaware and Rutgers have previously faced off just twice in women's basketball history with both meetings coming in postseason play.
The Blue Hens defeated the Scarlet Knights 97-56 on March 12, 1976, in the EAIAW Regionals. The following season, No. 8 Rutgers edged out Delaware 78-75 in the EAIAW Regionals.
For more information on tickets for Thursday's game at Rutgers, fans are encouraged to call 1-866-445-4678 or visit www.ScarletKnights.com.
For the WNIT bracket in PDF format, click here.