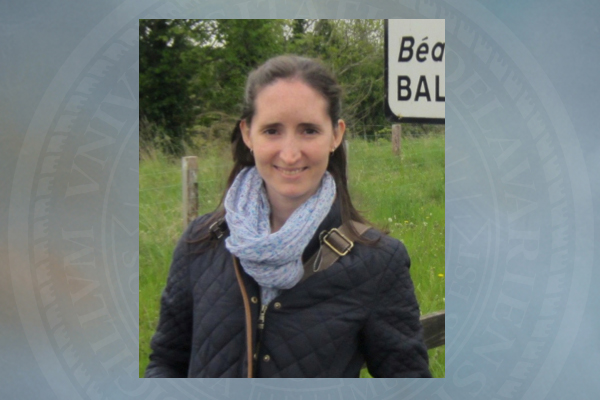 Moore named fellow
UD Library, Delaware Art Museum name Moore Fellow in Pre-Raphaelite Studies
12:47 p.m., March 26, 2014--The University of Delaware Library and the Delaware Art Museum have announced that Natasha Moore, most recently Visiting Research Fellow in the School of Letters, Art and Media at the University of Sydney, Australia, has been selected as the 2014 Fellow in Pre-Raphaelite Studies. 
While in residence in Delaware this fall, Moore will conduct research for her biography, The Literary Life and Times of William Allingham. 
'Resilience Engineering'
The University of Delaware's Nii Attoh-Okine recently published a new book with Cambridge University Press, "Resilience Engineering: Models and Analysis."
Reviresco June run
UD ROTC cadets will run from New York City to Miami this month to raise awareness about veterans' affairs.
Nineteenth-century Anglo-Irish poet William Allingham (1824-1889) now known almost exclusively, if at all, for his poem "The Fairies" ("Up the airy mountain, Down the rushy glen, We daren't go a-hunting, For fear of little men.") was a fascinating man of letters closely associated with the Pre-Raphaelites. 
A diarist, correspondent, critic, magazine editor, intimate friend to such eminent Victorians as Alfred Lord Tennyson and Thomas Carlyle, and husband to illustrator and water-colorist Helen (née Paterson), he has much to offer. 
Moore's research into the mass of unpublished materials relating to Allingham's life and work will allow her to produce the first full-length study of this neglected but important literary figure.
One of Allingham's many identities is to be found in his close association with the Pre-Raphaelite circle in the 1850s and 1860s. Dante Gabriel Rossetti, William Morris and Edward Burne-Jones became lifelong friends of his. Their rich surviving correspondence chronicles not only the growth of their friendships, but also their amusements, ambitions and work habits. 
One chapter in the biography will reconstruct the long-protracted deliberations, negotiations and delays that characterized the group's collaboration on Allingham's 1855 volume, The Music Master — the first important Pre-Raphaelite book, with illustrations by Arthur Hughes, John Everett Millais and Rossetti.
Moore will be using the resources of both the University of Delaware Library, including the Mark Samuels Lasner Collection, and the Delaware Art Museum. 
"Mark Samuels Lasner's unique and extensive collection, on loan to the University of Delaware Library, is indispensable to any scholar of William Allingham's life or work," said Moore. "Most of his correspondence – with everyone from Nathaniel Hawthorne to Herbert Spencer and George Eliot – remains either unpublished or long out of print, so there's a lot of archival legwork that needs to be done in order to piece together an account of his varied personal and professional activities and character. His diary and letters, compelling in themselves, also furnish us with a wealth of information and unexpected insights into the workings of Victorian friendship, politics, culture and the literary marketplace."
Moore added, "The story of William Allingham's collaboration with his Pre-Raphaelite friends in the early 1850s to produce an illustrated volume of his poetry is both fascinating and humorous — the joys of working with these artists were, it seems, equally balanced by the frustrations. Along with using the Delaware Art Museum's holdings of illustrated books, I'm particularly looking forward to seeing in person Dante Gabriel Rossetti's famously unfinished painting Found, work on which is a constant topic in Dante Gabriel Rossetti's letters to William Allingham — for not fulfilling his side of the bargain."
Moore received a doctorate in English from Queens' College, University of Cambridge; a bachelor of arts (Honors Class I and University Medal) in English and a bachelor of arts (Languages) (Honors Class I) in French, both from the University of Sydney. 
She has served as research assistant in the Learning and Teaching Unit at the University of New South Wales; as undergraduate supervisor/tutor in the faculty of English at the University of Cambridge, and as tutor in English for secondary students at the Sutton Trust Summer School at the University of Cambridge.