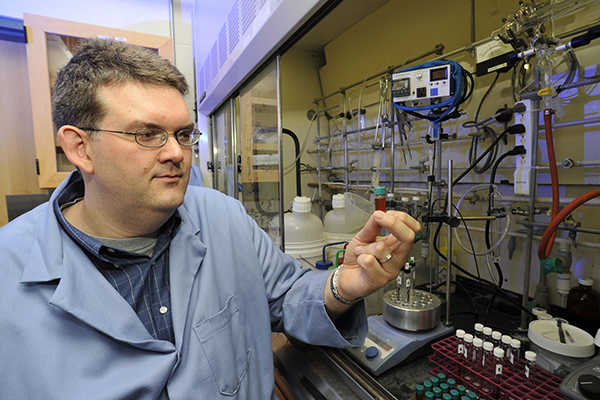 Chemistry toolkit
Professor to study new routes to synthesize organic molecules for pharmaceuticals
9:27 a.m., March 17, 2014--Donald Watson, assistant professor in the Department of Chemistry and Biochemistry at the University of Delaware, has received a $1.47 million grant from the National Institutes of Health (NIH) to study new reactions for use in the production of medicines and pharmaceuticals.
"Modern medicine relies on the preparation of complex organic molecules to serve as the active ingredients of pharmaceuticals," Watson says. "As the need for more selective, more potent, and more effective medicines increases, there is an ever-growing need to develop new methods to synthesize complex organic molecules." 
Chronic wounds
UD's Millicent Sullivan and Kristi Kiick have received a $1.4 million grant from the National Institutes of Health for research that could provide a new approach to the treatment of chronic wounds.
Prof. Heck's legacy
The American Chemical Society is highlighting the legacy of the late Nobel laureate Richard Heck, the Willis F. Harrington Professor Emeritus of Chemistry at the University of Delaware with a digital tribute on its publications website.
Watson explains that alkyl amines are a common structural element in a broad range of pharmaceutical agents. Many of the methods used to construct these compounds rely on carbonyl compounds as starting materials, which limits the ways in which alkyl amines can be prepared.
With the NIH support, Watson's team will investigate two new methods to prepare complex alkyl amines using non-carbonyl starting materials. In both cases, transition metal-based catalysts will be used to develop new synthesis approaches.
"Our goal is to add to the toolbox for chemists who work on drug compounds," Watson says. "The more tools we have available to us, the more efficiently and effectively these compounds can be assembled."
"We're conducting basic research in our lab," he adds, "but we hope that it will directly benefit the preparation of complex nitrogen-bearing organic molecules and aid in the discovery of the next generation of pharmaceutical agents."
Watson supports a large and diverse group of researchers in his lab, including nine Ph.D. students and a number of postdocs and undergraduates. The NIH-funded work opens up yet another path in the group's efforts to develop new reactions that enable the synthesis of complex organic molecules. 
In 2013, Watson received a $570,000 Faculty Early Career Development Award from the National Science Foundation and a $75,000 Cottrell Scholar Award from the Research Corporation for Science Advancement. 
With the NSF Career Award, he is examining new ways to construct vinyl and allyl silanes using simple alkene starting materials. The foundation for this research is the Nobel Prize-winning work of UD's Richard Heck, Willis F. Harrington Professor Emeritus of Chemistry and Biochemistry, who developed reactions to form carbon-carbon bonds through palladium catalysis. 
The Cottrell Scholar award is funding Watson and his team to develop a new way to create silylacetylides, which are useful intermediates in the synthesis of complex organic molecules, by using transition metals to catalyze reactions in alkanes. 
"Organic chemistry is the foundation for so much of what we take for granted in everyday life, from vitamins and medicines to flavor enhancers and fertilizers," Watson says. "We're pleased to be contributing new tools to advance this ever-expanding field." 
Article by Diane Kukich
Photo by Kathy F. Atkinson