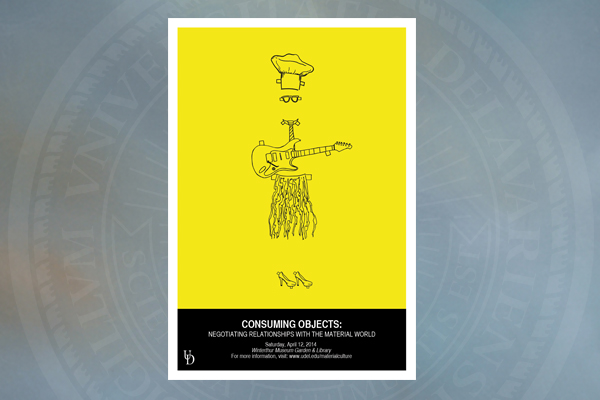 April 11-12: Material culture
UD, Winterthur present Material Culture Symposium for Emerging Scholars
1:47 p.m., March 24, 2014--The 12th annual Material Culture Symposium for Emerging Scholars, "Consuming Objects: Negotiating Relationships with the Material World," will be held Friday and Saturday, April 11-12.
Organized by an interdisciplinary graduate student committee at the University of Delaware, and co-sponsored by the Center for Material Culture Studies at the University and Winterthur, the symposium provides graduate students, other emerging scholars, and anyone interested in objects and their stories with a venue for interdisciplinary discussion relating to the study of material life and culture.
Chronic wounds
UD's Millicent Sullivan and Kristi Kiick have received a $1.4 million grant from the National Institutes of Health for research that could provide a new approach to the treatment of chronic wounds.
Prof. Heck's legacy
The American Chemical Society is highlighting the legacy of the late Nobel laureate Richard Heck, the Willis F. Harrington Professor Emeritus of Chemistry at the University of Delaware with a digital tribute on its publications website.
Participants can investigate the potential of object-based research to expand and even reinvent the understanding of culture and history.
The symposium is free and open to the public, although registration is required. Attendees may also participate in free tours of Winterthur's unparalleled collection of American decorative art, conservation labs, and research library.
This year's symposium will feature keynote speaker Wendy A. Woloson, assistant professor of digital and public history at Rutgers University-Camden and author of Refined Tastes: Sugar, Consumers, and Confectionery in 19th-Century America. 
For over a decade Woloson was the curator of printed books at the Library Company of Philadelphia and comes to Rutgers-Camden having spent several years as a consultant on digital archives projects. Her research interests include the history of material and consumer culture, used goods markets, alternative and criminal economies, and the history of capitalism.
The symposium will begin at 4 p.m., Friday, April 11, in 102 Gore Hall at UD with a roundtable discussion. Woloson will discuss her new project, provisionally titled "From Yankee Notions to Plastic Vomit: A History of Crap in America."
The symposium will continue at 8:15 a.m., Saturday, April 12, at Winterthur with presentations by nine emerging scholars on a diverse set of material culture topics. 
This year the three panels will explore the themes of fashioning identity through consumption, rethinking foodways, and the relationship between the state and consumption. 
Comments will be given by Susan Kern, visiting associate professor of history at the College of William and Mary; Gabriella Petrick, associate professor of nutrition, food studies and history at George Mason University; and Catherine Whalen, assistant professor of American material culture studies at Bard Graduate Center.