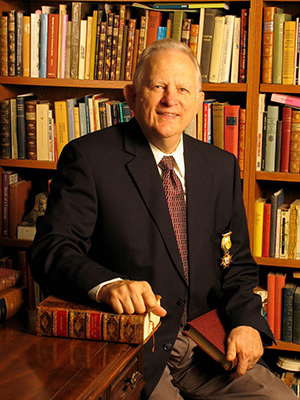 In memoriam
Memorial service to be held March 25 for Thomas Lathrop
9:32 a.m., March 7, 2014--A memorial service will be held at 4:30 p.m., Tuesday, March 25, at Bayard Sharp Hall for Thomas Albert Lathrop, a longtime member of the University of Delaware faculty and professor emeritus of Spanish. 
Dr. Lathrop died Feb. 17 while vacationing in Anaheim, Calif.
He was professor of romance languages at UD from 1980 until his retirement in 2006.
While at UD, Dr. Lathrop led study abroad programs in Spain, and initiated and led study abroad programs in Paris and Brazil.  He chaired and served on numerous committees and produced an impressive body of scholarship as well as a number of textbooks. 
In all he authored 19 books and edited a number of editions of Spanish and French classics for English speaking readers, including Cervantes' Don Quixote with a companion dictionary. 
He authored numerous articles, created an illustrated children's edition of Don Quixote with Jack Davis, and produced a new translation of Don Quixote in English. Other projects were in the works.
Born in Los Angeles, Dr. Lathrop attended John Marshall High School. He received a scholarship from the Scholastic Sportswriters Association to attend Pepperdine College, but transferred to the University of California, Los Angeles in his sophomore year. At UCLA, he participated in the university's first study abroad program in Bordeaux, France, earned a bachelor of arts degree in Spanish and French, a master's degree in Spanish literature, and a doctorate in romance linguistics.
While earning his Ph.D., he worked as a teaching assistant at UCLA and as an instructor at the University of Wyoming. During that time, he began writing Spanish textbooks.
While at UCLA, he met French graduate student Connie Cook. The couple married in Silver Spring, Md., in 1969, and lived in Los Angeles for two years while Dr. Lathrop taught Spanish at Mount Saint Mary's College.
In 1971, Dr. Lathrop received a year-long grant from the Del Amo Foundation to study in Spain. The couple moved to Madrid, where he wrote The Evolution of Spanish. The book was later translated into Spanish and was the first on the subject ever published in Spain by a non-native Spanish speaker. He subsequently received a Gulbenkian Foundation grant to work on a Portuguese philological project, and the couple moved to Lisbon, Portugal, for half a year.
In 1973, the couple moved to Lexington, Ky., where Dr. Lathrop taught at Transylvania College, and their daughter, Aline, was born. In 1976 the family moved to Pennsylvania where he taught at Lafayette College, before settling in Newark, Del., in 1980, when he joined the UD faculty. 
In addition to his university career, Dr. Lathrop founded and was editor of two publishing companies: Juan de la Cuesta Hispanic Monographs (est. 1978), which has published more than 300 works in Hispanic language, literature and linguistics, and Linguatext Ltd. (est. 1974), which has published manuals for students of Portuguese, Spanish, and Dutch. In addition, he served as editor of two scholarly journals and as consulting editor of three others. 
He was the recipient of numerous awards including the prestigious Order of Don Quixote award given by the Spanish National Honor Society, and was named Oficial en la Orden de Isabel la Catolica by the King of Spain.
Dr. Lathrop was fascinated by language, but he was also an avid sports fan, lover of music, and enthusiastic traveler. With all of his accomplishments, he valued his family most. When he retired he changed his signature from "Dr. Thomas A. Lathrop, Professor of Romance Languages," to "Tom Lathrop, husband of Connie Lathrop, father of Aline Glick, and grandfather of two extraordinary granddaughters."
He is survived by his wife, Connie Lathrop, his daughter, Aline Glick, with her husband, Ben, and granddaughters Viviana and Isadora, and brother Charles Lathrop of Prescott, Ariz.