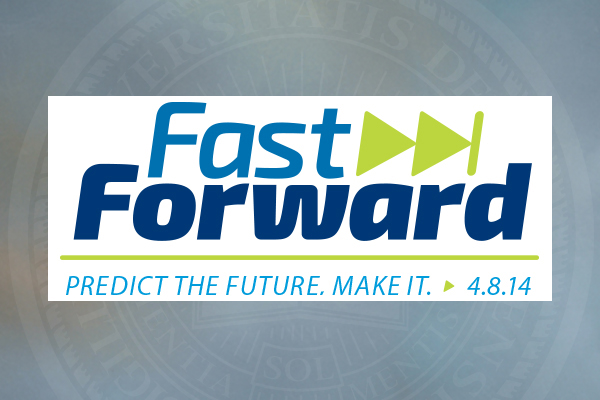 April 8: 'Fast Forward'
Horn Program event to feature networking, presentation lightning rounds
9:33 a.m., March 26, 2014--The University of Delaware's Horn Program in Entrepreneurship has announced "Fast Forward," an event featuring five-minute, five-slide presentations by entrepreneurs, inventors and community leaders who are shaping the future.
The event, which will include networking time for attendees to explore ideas and make new connections, begins at 5:30 p.m., Tuesday, April 8, at the new Venture Development Center at 132 E. Delaware Ave.
June 5: Blue Hen 5K
University of Delaware graduates planning to attend Alumni Weekend are encouraged to register for the annual Blue Hen 5K walk and run, which will be held Sunday morning, June 5.
June 6-9: Food and culture series
The 20th annual June Lecture Series at the Osher Lifelong Learning Institute at UD in Wilmington will be held June 6-9. Titled 'June a la Carte,' this year's program focuses on great political documents, feminism, world politics and a Newark cuisine sampler.
In a session on "Shaping the Innovation Ecosystem," attendees will hear from Dan Flynn, First Step; Jon Brilliant, Healthcare IT Nurturator; Bryan Tracy and Matt Meyer, Utilizing Social Impact Bonds; Erastus Mongare, Startup Africa's Youth Entrepreneurship Initiative; and Michael Kalmbach, Creative Placemaking Hustle.
After a round of networking, a session on "Big Ideas" will feature Kjell Hegstad, Innovation Center; Rob Cook, Smart Fixtures; Yushan Yan, Flow Batteries; Janine Sherrier, Microbes: The Next Big Things; and Cole Galloway, Go Baby Go Boutique.
Hors d'oeuvres and refreshments, including beer and wine, will be provided. Registration is $15 for students with a valid student ID and $30 for adults. Attendees are asked to register in advance online.