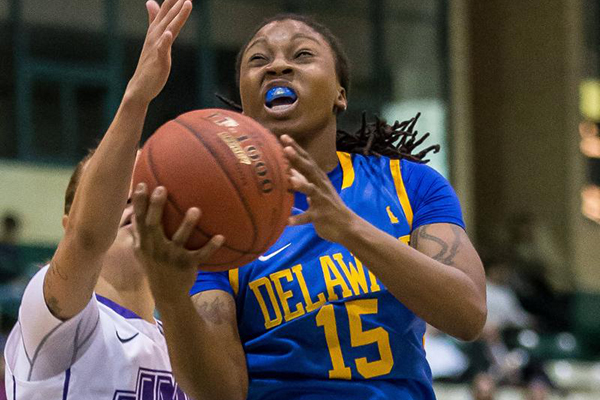 JMU tops Hens
Blue Hens fall to James Madison in CAA women's tournament title game
1:59 p.m., March 16, 2014--The University of Delaware fell 70-45 to James Madison University in the Colonial Athletic Association women's basketball championship game played Sunday afternoon at the Show Place Arena in Upper Marlboro, Md.
The Blue Hens were playing in their fourth consecutive CAA championship game, having won in 2012 and 2013, and now await a WNIT bid.
Rower honored
University of Delaware junior Claire Brown has been named second team Collegiate Rowing Coaches Association All-Region.
Unsung Hero
The One Love Foundation has announced that University of Delaware men's lacrosse standout Elijah Conte has been selected as a winner of the 2016 YRL Unsung Hero Award.
Senior Akeema Richards led the Hens with 12 points, all of which came in the second half of play. 
Redshirt sophomore Joy Caracciolo had eights points and 10 rebounds, and sophomore Courtni Green had 10 points and four rebounds. Senior Kelsey Buchanan, playing in her fourth conference championship game, had six points and eight rebounds.
Buchanan and Caracciolo were named to the all-tournament team.
"Today was definitely not our day, but I'm not going to dwell on this loss," UD head coach Tina Martin said. "This team has come so far this season and no one expected us to be in this position. We're going to the WNIT and I'm looking forward to this group being able to compete in another post-season situation. Congratulations to JMU as they are the best team in the league and it would have taken a major upset in order to knock them off. We wish them well in the NCAA tournament."
For details, see BlueHens.com.