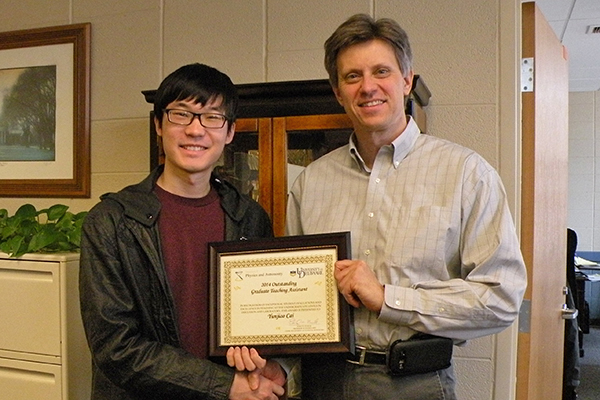 For the Record, March 28, 2014
University community reports recent awards, presentations, publications
11:42 a.m., March 28, 2014--For the Record provides information about recent professional activities of University of Delaware faculty, staff, students and alumni.
Recent awards, books, honors, media, presentations and publications include the following:
From graduates, faculty
As it neared time for the processional to open the University of Delaware Commencement ceremonies, graduating students and faculty members shared their feelings about what the event means to them.
Doctoral hooding
It was a day of triumph, cheers and collective relief as more than 160 students from 21 nations participated in the University of Delaware's Doctoral Hooding Convocation held Friday morning on The Green.
Awards
The Department of Physics and Astronomy has presented its 2014 Outstanding Teaching Assistant Award to graduate student Yunjiao (Jason) Cai. The award of a Certificate of Excellence and a cash prize for $1,000 was given by Edmund Nowak, professor and chair of the department, on March 26 before the department's colloquium. "The annual award was established to encourage and honor exemplary performance by a graduate student in the role of a teaching assistant," said Nowak, who added, "All graduate teaching assistants are valued teaching colleagues in our department and have important roles in carrying out its educational mission." Award recipients are selected based on student evaluations and letters of support from course instructors. The high effectiveness of Cai's TA activities in a number of introductory physics courses for engineering majors and life science majors are borne out by the students' comments which are almost unanimous in praising his helpfulness. Cai received a bachelor of science degree in physics from the School of Physical Engineering at China's Zhengzhou University. He is currently pursuing a doctorate with Yi Ji, associate professor of physics and astronomy.
Arwen P. Mohun, professor and interim chair of the Department of History, was awarded the 2014 Ralph Gomery Prize from the Business History Conference for Risk: Negotiating Safety in American Society. This prize, made possible by the Alfred P. Sloan Foundation, recognizes historical work on the effects of business enterprises on the economic conditions of the countries in which they operate.
Books
Joel Best, professor of sociology and criminal justice, and his son Eric Best, a doctoral alumnus of UD's disaster science and management program and an assistant professor of emergency management at Jacksonville (Ala.) State University, have published a book, The Student Loan Mess: How Good Intentions Created a Trillion-Dollar Problem, University of California Press.
Honors
A special issue of the journal Mathematical Methods in the Applied Sciences has been dedicated to Robert Pertsch Gilbert, Unidel Professor Emeritus of Mathematical Sciences, in honor of his retirement. An editorial in the journal cited Gilbert's "lifelong achievement in mathematics and its applications and computation" and said the issue can be considered a supplement to a 2012 special issue of Complex Variables and Elliptic Equations that celebrated his 80th birthday.
Media
Alexander Johnston, senior assistant librarian, Special Collections Department, University of Delaware Library, was interviewed for the section "Bright Young Librarians" of the Fine Books and Collections blog, on Feb. 20.
Presentations
Mark Samuels Lasner, senior research fellow, Special Collections Department, University of Delaware Library, gave a presentation titled "The Victorian Author as Designer" at the Center for Book Arts on March 7 in New York City. The presentation included images of items from the Special Collections Department and from the Mark Samuels Lasner Collection on loan to the University.
Publications
Sheldon D. Pollack, professor of law in the Department of Accounting and MIS, has published an article, "The First National Income Tax, 1861-1872," in volume 67 of The Tax Lawyer ( pp. 311–331) (Winter 2014), published by Georgetown University Law Center and the Tax Section of the American Bar Association. The article recounts the politics behind the adoption of the first national income tax during the U.S. Civil War.
Anne E. Bowler and Chrysanthi D. Leon, both associate professors in the Department of Sociology and Criminal Justice, and Terry G. Lilley, a UD alumnus and assistant professor of women's, gender, and sexuality studies at the University of Wisconsin, La Crosse, are co-authors of the article "'What Shall We Do with the Young Prostitute? Reform Her or Neglect Her?' The New York State Reformatory for Women at Bedford, 1901-1913" that recently appeared in Journal of Social History 47 (2), (Winter 2013): 458-481. Lilley received his doctorate in sociology in 2012 from UD, and was the recipient of the Frank R. Scarpitti Award for Outstanding Graduate Student in the Department of Sociology and Criminal Justice.
To submit information to be included in For the Record, write to ud-ocm@udel.edu.