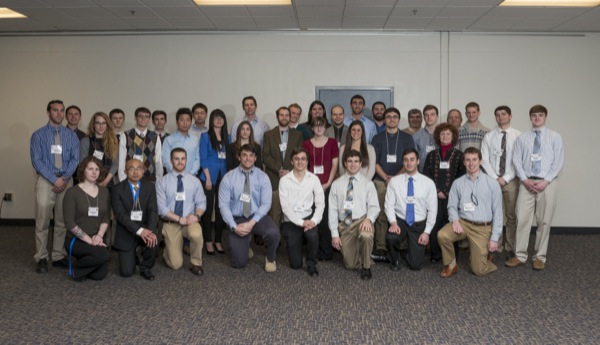 For the Record, March 14, 2014
University community reports recent awards, presentations
9:33 a.m., March 14, 2014--For the Record provides information about recent professional activities of University of Delaware faculty, staff, students and alumni.
Recent appointments, awards and presentations include the following:
From graduates, faculty
As it neared time for the processional to open the University of Delaware Commencement ceremonies, graduating students and faculty members shared their feelings about what the event means to them.
Doctoral hooding
It was a day of triumph, cheers and collective relief as more than 160 students from 21 nations participated in the University of Delaware's Doctoral Hooding Convocation held Friday morning on The Green.
Appointments
David Hollowell, executive vice president and university treasurer emeritus, has been appointed as a commissioner with the Middle States Commission on Higher Education (one of the seven regional accrediting bodies) and will serve on its finance committee.
Awards
The University of Delaware Epsilon Omicron student chapter of IEEE-Eta Kappa Nu has received a 2012-13 Outstanding Chapter Award from the national organization. UD was one of 23 student organizations recognized for excellence in chapter activities. The award will be presented during the 2014 Electrical and Computer Engineering Department Heads Association conference on March 24 in Napa Valley, Calif.
Debora Hansen, who received her bachelor's degree in fine arts in 1981, will receive the 2014 Eastern Region Supervision/Administration Art Educator of the Year Award later this month from the National Art Education Association. Hansen, an education associate at the Delaware Department of Education, oversees all educational programs in dance, music, theatre and visual art for the state's school districts and charter schools.
Justin Teesdale, who earned his bachelor's degree in chemistry in 2013, has been selected as the 2014 recipient of the American Chemical Society's (ACS) Division of Inorganic Chemistry Award for Undergraduate Research, recognizing the work he did at UD with Joel Rosenthal, assistant professor of chemistry and biochemistry. Teesdale, who won UD's Dyer Excellence in Chemistry Award last year and is now a graduate student at the University of Chicago, was selected for the ACS honor from a pool of nominees including students from Harvard and Dartmouth.
Melissa Mowry, who earned her doctoral degree in English in 1993 and is now an associate professor of English at St. John's University, has won the prestigious and highly competitive Clifford Prize for best article of the year in 18th century studies. Her article, published in the journal ELH: English Literary History, is titled "Past Remembrance or History: Aphra Behn's The Widdow Ranter, or How the Collective Lost Its Honor."
Presentations
Mark Samuels Lasner, senior research fellow, University of Delaware Library, was an invited speaker on a panel in the "History of Book Design" series at the Center for Book Arts, New York, March 7. His presentation, "The Victorian Author as Designer," included images of items from the Special Collections Department of the University of Delaware Library and from the Mark Samuels Lasner Collection, on loan to the library. The other two speakers were William S. Peterson, professor emeritus, University of Maryland, and Jane R. Siegel, curator of rare books, Rare Book and Manuscript Library, Columbia University.
To submit information to be included in For the Record, write to ud-ocm@udel.edu.