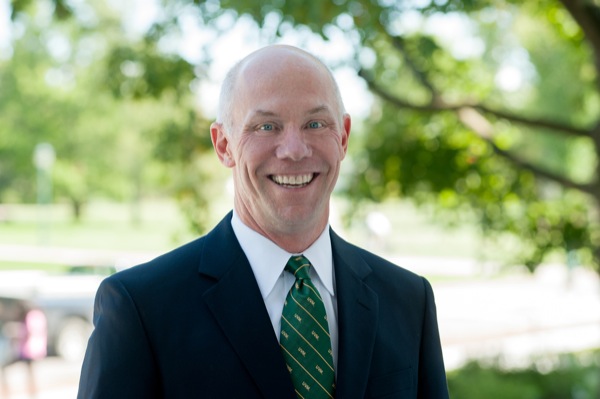 New vice president
Christopher Lucier named vice president for enrollment management at UD
1 p.m., March 6, 2014--After a national search, Christopher H. Lucier, who has led undergraduate admissions and enrollment strategy at the University of Vermont and the University of Michigan, has been selected from a highly competitive pool of applicants to serve as the founding vice president for enrollment management at the University of Delaware, Provost Domenico Grasso announced today.
In this new position of vice president for enrollment management, Lucier will be responsible for identifying, attracting, yielding, funding and ensuring the success of UD's undergraduate students. He will have direct oversight of the offices of Admissions, the Registrar, Student Financial Services and the University Tutoring Center. His appointment is effective July 1. 
'Resilience Engineering'
The University of Delaware's Nii Attoh-Okine recently published a new book with Cambridge University Press, "Resilience Engineering: Models and Analysis."
Reviresco June run
UD ROTC cadets will run from New York City to Miami this month to raise awareness about veterans' affairs.
"This important senior leadership position will focus the fine work of several offices across the campus on a vital issue for this institution: finding, recruiting and nurturing the students who will dare to achieve their dreams here," Grasso said. "Chris Lucier has the knowledge, the perspective and the skills we need to succeed."
"I am very excited to join the UD team," Lucier said. "This is an incredible opportunity to work collaboratively with the talented and committed faculty and staff to attract, retain and graduate outstanding students from Delaware, across the U.S. and around the world."
"Chris has the demonstrated experience, expertise and vision we need for this vital post," said Bruce Weber, dean of UD's Lerner College of Business and Economics and chair of the search committee.
About Chris Lucier
Since 2007, Lucier has served as a member of the president's senior leadership team, helping shape and manage overall university strategy at the University of Vermont (UVM). Reporting to the provost, he has been responsible for developing enrollment management strategy and implementing and assessing operational programs to recruit, admit, retain and graduate undergraduate students consistent with the university's traditions, values, mission and vision.
Lucier has led successful strategic efforts to enhance undergraduate student success and satisfaction to improve retention and persistence to graduation, and to increase domestic and international diversity. Additionally, under his leadership the Division of Enrollment Management has been at the forefront of leveraging technology to improve service and efficiency.
Before going to UVM, Lucier was director of recruitment and operations in the Office of Undergraduate Admissions at the University of Michigan in Ann Arbor, where he earlier served as senior associate director of recruitment and marketing. 
A member of the Association of Public and Land Grant Universities Commission on Access, Diversity and Excellence, he has served on several committees with the College Board and the Michigan Association of College Admissions Counseling. He also has presented at many regional and national conferences on a range of admissions and enrollment topics, including Affirmative Action and seeking diversity through the admissions process and leveraging technology.
Lucier began his enrollment management career in March 2001 after serving in the U.S. Army for 21 years. During his Army career, he served in primarily armor and cavalry assignments in the United States and in Germany, and he was awarded the Legion of Merit Medal and the Meritorious Service Medal three times.
He earned his bachelor of science degree in renewable natural resources from the University of Arizona and his master's degree in public administration from Western Kentucky University. He is also a graduate of the Army's Command and General Staff College. 
Lucier and his wife, Rosemary, have been married for 34 years, and they have four sons, Adam, Brian, Nate and Matt. 
Photo by Sally McCay, University of Vermont