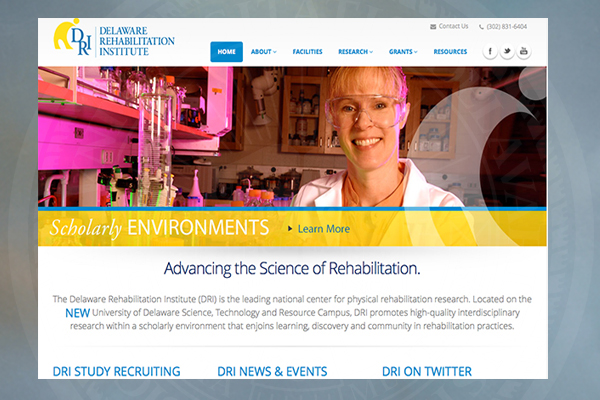 DRI move, upgrade
Delaware Rehabilitation Institute moves to STAR, upgrades digital outreach
12:56 p.m., March 12, 2014--With its move to the University of Delaware's Science, Technology and Advanced Research (STAR) Campus, the Delaware Rehabilitation Institute (DRI) has also upgraded its digital outreach. 
DRI, which is known for its dedication to finding innovative and improved ways to help people recover from injury and disease, has recently launched a new website, as well as Twitter and Facebook accounts.
From graduates, faculty
As it neared time for the processional to open the University of Delaware Commencement ceremonies, graduating students and faculty members shared their feelings about what the event means to them.
Doctoral hooding
It was a day of triumph, cheers and collective relief as more than 160 students from 21 nations participated in the University of Delaware's Doctoral Hooding Convocation held Friday morning on The Green.
Relocating from Spencer Laboratory on Academy Street, DRI is now housed on the STAR Campus. Its staff will oversee imaging, biomechanics, treadmill and robotics laboratories. Faculty offices will be located mainly on the second floor.
"Our research faculty have been located all over campus, so we are happy our home is finally complete," said Danielle Nolen, business manager for DRI.
With more than 50 faculty members in five colleges and 10 departments across the UD campus, DRI is able to take its breakthrough findings from the laboratory to clinic and apply them to their rehabilitation techniques to benefit Delawareans of all ages. 
"We have people who work together from physical therapy, mechanical engineering, psychology, behavioral health and kinesiology, to name a few," said Nolen. "DRI is an interdisciplinary institute so our job is to bring all of the incredible minds from the different departments to work together to find great solutions to problems."
Through their renewed five-year, $5.4-million COBRE grant from the National Institutes of Health, DRI continues to conduct major research in osteoarthritis. These grants are intended to expand and develop institutional biomedical research capacity by enhancing research infrastructure.
The COBRE grant allows the research facility to conduct three different core research programs, two of which will be found at the STAR Campus location. 
The patient-specific modeling core will provide tools to determine forces in muscle, ligaments and cartilage in specific individuals. The clinical research core will facilitate human subject research through recruitment and retention of subjects, patient database access and biostatistics support.
The third core, or the cytomechanics focus, will remain at its current location in Spencer Lab. This provides tools for researchers to study how bone, cartilage and ligament respond to stress and strain. 
Through the Delaware Health Sciences Alliance, DRI partners with researchers and clinicians at Christiana Care Health System, Thomas Jefferson University and Nemours/A.I. duPont Hospital for Children. 
DRI social media 
The new website features easily accessible links to important information about DRI, including faculty accomplishments in research and new grant opportunities. There also is a section devoted to details about new research studies conducted on site, and applications for those interested in becoming research subjects. 
These application posts will be uploaded to the Twitter and Facebook accounts as well. 
To access the website, click on this link. 
The Twitter and Facebook accounts also will feature regularly updated tips on prevention and awareness surrounding topics such as ACL injury and stroke. 
Article by Nicole Sullivan