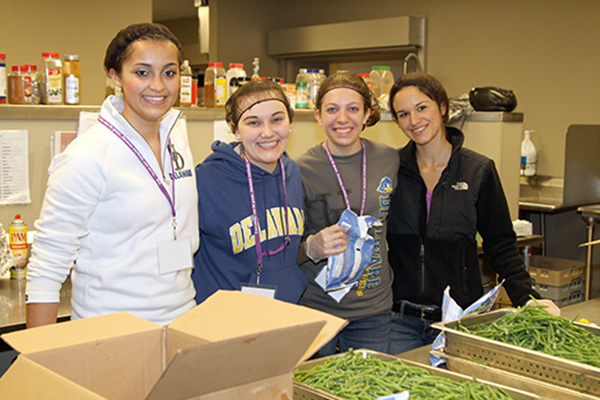 MLK Day of Service
100 students volunteer their Saturday in the name of service
4:07 p.m., March 6, 2014--In honor of the work of the Rev. Dr. Martin Luther King Jr. and the significance of national service activities, University of Delaware Residence Life and Housing hosted the third annual MLK Day of Service on Feb. 22. 
Traditionally, the national MLK Day of Service is held in January. However, in consideration of the University's Winter Session, Residence Life and Housing decided to observe this day of service in February, during the spring semester.
From graduates, faculty
As it neared time for the processional to open the University of Delaware Commencement ceremonies, graduating students and faculty members shared their feelings about what the event means to them.
Doctoral hooding
It was a day of triumph, cheers and collective relief as more than 160 students from 21 nations participated in the University of Delaware's Doctoral Hooding Convocation held Friday morning on The Green.
The later date did not hamper the spirit of the day, which began with a keynote session highlighting King's legacy of service.
The Rev. Nona Holy, pastor of the Presbyterian Campus Ministry at UD, addressed the importance of service in building community. Inspired to go into the community, the students and staff boarded buses for service project locations.
Projects performed this year reflected the variety of ways people can serve one another. Some students and staff ended the day splattered with paint or covered in dust, but all took away a sense of pride and community.
José-Luis Riera, dean of students, addressed the group, urging them to continue to serve through University opportunities and within the local community.
"My hope in addressing the students that served on Saturday was to help them reflect on the role service has in broadening one's world perspective, " Riera said. "I believe this was a key point in Dr. King's writings. Service can be transformative in sharpening a student's vision for their future, including their career development and the choices they make in deciding how they might contribute to our society."
The day of service was made possible by Residence Life and Housing in partnership with the Center for Black Culture (CBC), the Dean of Students Office, the Student Support Services Program (SSSP) and the Resident Student Association (RSA).
More about the service projects
At the Jeanne Jugan Residence, ongoing construction has left staff struggling to keep up with cleaning. Participants cleaned wheelchairs and dining rooms, providing welcome assistance to the staff of the home for low-income elderly operated by the Little Sisters of the Poor.
"Everything was wonderful on Saturday. The UD students worked very hard and with smiles on their faces," said Mary Cella, director of volunteers for Jeanne Jugan Residence. "The students had a tour of the nursing home and met several of the Sisters. Also some of them got to take residents for a walk outside which was wonderful. Because of all the snow many residents have not been outside in a while."
At Settlement House at Meeting Ground in Elkton, Md., students painted the interior of a men's shelter for transitionally homeless individuals and families.
Antonio Robinson, a junior mass communications major and resident assistant, served as the team leader for the Settlement House project.
"Our trip provided a great opportunity for reflection on not only Martin Luther King Jr.'s legacy, but also what it means to provide service to those who continue to fight for our freedom," said Robinson. "Helping to paint the transitional housing for our veterans was just a small token of our appreciation for what they have done for our country."
A project at West End Neighborhood House was a collaboration with the Resident Student Association (RSA) and was filled with members of that registered student organization.
The volunteers helped with West End's "Computer Lab Blitz" projects. Students were split into two groups. One group retyped and assembled a fresh, new version of the Youth Programs' Emergency Manual, which had previously existed as a hard copy only. The second group of students designed, created, and printed math flash cards for West End's after-school program.
The Residence Life and Housing Alternative Break (RLHAB) program worked with Habitat for Humanity at a location in Wilmington in preparation for a spring break trip to New Jersey. In collaboration with Coastal Habitat for Humanity in Monmouth County, N.J., students will work on restoring and rebuilding communities impacted by Hurricane Sandy. 
Additional projects were held at the Mary Campbell Center, the Sunday Breakfast Mission and Family Promise.
Visit the Residence Life and Housing website for more information about continuing service opportunities.
Article by Tabitha Groh
Photo by Jake Schwarzinger