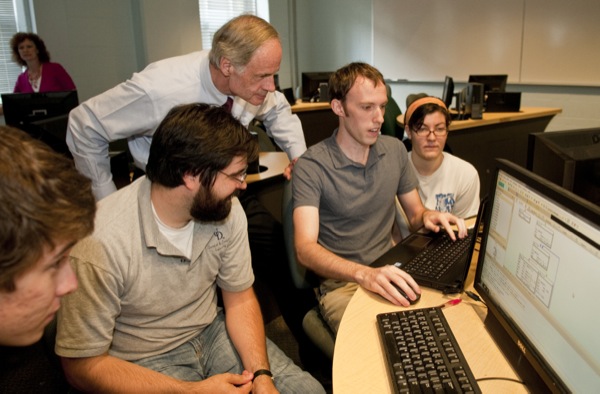 Cybersecurity class
Sen. Carper notes UD cybersecurity efforts during remarks at hearing
1:44 p.m., March 27, 2014--U.S. Sen. Tom Carper noted the University of Delaware's emphasis on cybersecurity studies during a March 26 Senate Committee on Homeland Security and Governmental Affairs hearing.
In his opening statement at the hearing on "Strengthening Public-Private Partnerships to Reduce Cyber Risks to Our Nation's Critical Infrastructure" held in the Dirksen Senate Office Building, Carper told those attending that UD "gets" the importance of cybersecurity.
From graduates, faculty
As it neared time for the processional to open the University of Delaware Commencement ceremonies, graduating students and faculty members shared their feelings about what the event means to them.
Doctoral hooding
It was a day of triumph, cheers and collective relief as more than 160 students from 21 nations participated in the University of Delaware's Doctoral Hooding Convocation held Friday morning on The Green.
"Last week, I had the privilege of visiting a new cybersecurity class at the University of Delaware," Carper said. "I was incredibly impressed with the students and was even told that the class was 'oversubscribed.' That is a good problem to have.
"Those students at the University of Delaware, they get it. They understand what cybersecurity means and how important it is for our economic and national security. Our friends with us today, they understand it, too. But for some other folks, this is just a hard issue to grasp."
Carper said it is important to "jumpstart a new conversation about cybersecurity in our country" to unite to tackle a growing threat.
UD also was mentioned in hearing testimony presented by Elayne Starkey, chief security officer in the Delaware Department of Technology and Information.
Starkey cited a state cybersecurity coordinating council that includes all universities and colleges in the state, and pointed to UD's work creating the Science, Technology and Advance Research (STAR) Campus and the new University of Delaware Cybersecurity Initiative, where a skilled cyber workforce can be developed to "serve as a pipeline both for the state of Delaware and our businesses, and a hub for cyber innovation."
For full statements by both Carper and Starkey, see the committee hearing web page.
Photo by Doug Baker