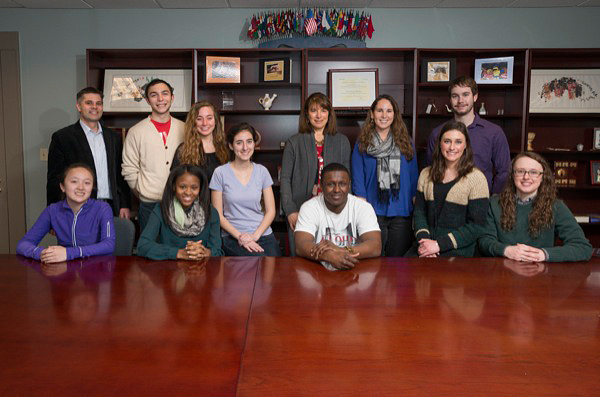 Commitments to change
UD students attend Clinton Global Initiative University
5:02 p.m., March 21, 2014--Students have the passion, potential, and resources to become global leaders. This weekend, 14 students at UD will have an opportunity to put their ideas into action. 
After submitting project proposals – also known as commitments to action -- students were accepted to attend the Clinton Global Initiative University (CGIU) at Arizona State University from March 21-23.
Fulbright awards
Three University of Delaware students and an alumna have received word this spring that they will travel abroad as part of the newest class of Fulbright Student Program award winners.
Peace Corps plans
Two University of Delaware students, John McCarron and Bridgette Spritz, have been selected as Peace Corps volunteers and will serve in Ghana and Rwanda.
Former President Bill Clinton launched CGIU in 2007 to connect and engage young leaders on college campuses around the world. The event inspires students to become world leaders and to take action to solve local and global challenges. 
CGI U also provides them with the opportunity to network, grow a community of leaders, and meet prestigious government, non-profit and corporate leaders. 
Noel Shadowen, a doctoral student in clinical psychology, is the student adviser to CGI U and is accompanying the students to Arizona.
"The purpose of the conference is for brainstorming, networking and sharing best practices," said Shadowen. "CGI U helps future leaders develop skills and knowledge to be successful and meet others with similar passion and commitment to changing the world for the better."
Students submitted commitments to action in one of the following five focus areas; Education; Environment and Climate Change; Peace and Human Rights; Poverty Alleviation and Public Health. Each commitment was required to be new, specific and measurable. 
This is UD's second year as a university network member, which includes providing funds for students' participation and projects. Six individual commitments were accepted and three group commitments will be represented at the conference.
Two students will represent Engineers Without Borders (EWB) and will discuss their commitment, "UD in Malawi." They traveled to Malawi in June 2013, the height of the dry season, to assess the area and will travel back next January during the height of the rainy season to compare the water sanitation sustainability. 
"Through EWB I found out the things I can do with engineering that could really help people and change the world," said chemical engineering major Samantha Meehan.
Another project, FEMpower, will have two out of three students representing their commitment at CGI U. FEMpower will collaborate with the Haiti Family Initiative Inc. to create a program in which American health care providers and students can work to establish health education programs with a focus in women's health.
Sophomore Marta Shakhazizian will return for her second year presenting her commitment "Junk Kills," a photographic campaign to promote healthy eating. It is an effort to warn the public of the dangers of unhealthy eating through symbolic shock imagery. The Junk Kills photos are currently up and around campus as part of a research study. 
"I think the projects that we are working on in our own ways are really influential and impactful in the lives of the people who will be affected by them. It feels good to be able to help people," said Melany Justice, whose commitment focused on education. 
Engineering students will be sharing their adaptive rowing device that allows those with quadriplegia, paraplegia, hemiplegia, multiple sclerosis and paresis to operate a crew boat. The QuadCrew was a finalist for the First Step Program, selected to represent at UD at the World Congress of Biomechanics this summer and have filed patents for their equipment. 
Students will be participating in working sessions, skill sessions and networking events. They will learn about matters such as marketing ideas, networking, fundraising, social media and career expertise.  The weekend will culminate with a day of service led by Chelsea Clinton.
"We are at a time where our creativity is heightened," said Meehan. "When you are young and you're still learning you have that passion to learn more, do things, be creative and affect peoples lives in the process."
Featured participants include U.S. Sen. John McCain; Gabrielle Giffords, former U.S. Representative and founder of Americans for Responsible Solutions; Jimmy Kimmel, host and executive producer of Jimmy Kimmel Live!; Reeta Roy, president and CEO, the MasterCard Foundation; María Elena Salinas, anchor, Univision News; Jimmy Wales, founder, Wikipedia; and Lauryn Williams, U.S. Olympic gold medalist in sprinting and silver medalist in bobsledding.
UD students and commitments participating at CGI U include:
James Leitner representing The Water Project; 
Alexa Rivadeneira representing Lori's Hands; 
Melany Justice representing America's Tomorrow, College Readiness Conference; 
Elizabeth Quartararo representing Project Lede; 
Sarah Masters, Matthew Imm and Molly Wessel representing QuadCrew; 
Samantha Meehan and Kelsey McWilliams representing EWB UD in Malawi; 
Marta Shakhazizian representing Junk Kills; 
Garrison Davis representing The Little Bob Initiative; and
Sarah Mottram, Yaewoong Yoo and Emily Zhang representing FEMpower. 
The University of Delaware CGI U campus representative is Timothy Fowles, assistant professor of psychology, in collaboration with the Institute for Global Studies.
Said Fowles, "Some of UD's very best students gravitate towards CGI U. These are bright, creative, independent thinkers who aren't afraid to think big and tackle real-world problems. Those who participate in CGI U get a huge boost for their projects in the form of motivation, resources, and advice from some of the world's foremost experts. It is an exciting program where current global leaders connect with the next generation of change-makers."
For more information about CGI U, visit the website.
A live stream of CGI U events will be available online.