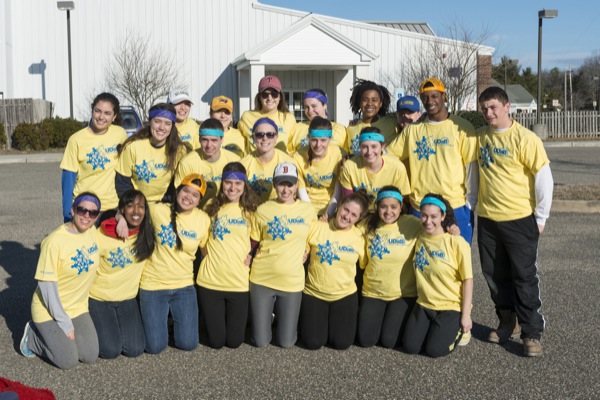 UDaB 2014
UD students prepare for fourth year of alternative spring break trips
3:25 p.m., March 24, 2014--The University of Delaware's alternative spring break program (UDaB), now housed in the Institute for Global Studies, will send approximately 200 students to participate in alternative spring break projects next week in New Orleans, Florida, New Jersey, West Virginia, Detroit, Philadelphia, Baltimore, and Washington, D.C. 
UDaB participants will attend a send-off event at 5 p.m., Wednesday, March 26, in the Rodney Room of the Perkins Student Center in order to come together one last time before trips leave on Saturday, March 29.
Fulbright awards
Three University of Delaware students and an alumna have received word this spring that they will travel abroad as part of the newest class of Fulbright Student Program award winners.
Peace Corps plans
Two University of Delaware students, John McCarron and Bridgette Spritz, have been selected as Peace Corps volunteers and will serve in Ghana and Rwanda.
UDaB has grown dramatically in the past year, adding three additional trips to its roster and increasing the number of students by more than 50. 
Earlier in the year, UDaB won a Liberty Mutual Responsible Scholars Alternative Spring Break video contest and received a grant for $2,000. The funding will be used for moveable gardening supplies for the new Urban Environment trip to Philadelphia.
Return event
In addition to the send-off, UDaB also will host a return event for all alternative break trips on Wednesday, April 16, from 6-7 p.m., also in the Rodney Room. This event will allow participants to reflect on and share their experiences with each other and the campus community. All are welcome to attend.
Social media
The campus community can follow students in the UDaB program, who will be posting photos and updates about their activities on Twitter, Instagram and Facebook.
From March 29 through April 4, a photo and description from one of eight community service trips taking place across the country will be posted to UDaB's Facebook page. 
In addition, the Institute for Global Studies will be posting updates throughout the week on its Twitter account. 
Blue Hens can also catch updates on the University of Delaware and Blue Hen Says Facebook pages.
Twitter and Instagram users are invited to follow UDaB's trips with the hashtag #UDaB2014.
Article by Katie Plante
Photo by Evan Krape