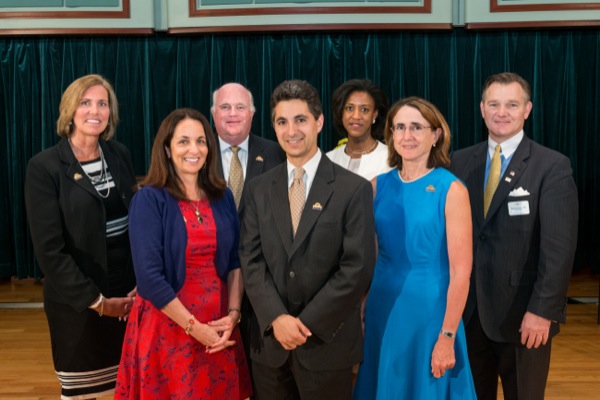 Wall of Fame
Five distinguished UD graduates inducted into Alumni Wall of Fame
5:04 p.m., June 9, 2014--Five University of Delaware alumni were honored for their outstanding accomplishments by being inducted into the Alumni Wall of Fame during a ceremony Saturday afternoon, June 7, in the Gore Recital Hall of the Roselle Center for the Arts.
They are Anne M. Gaffney, a specialty materials research and development leader at Invista; E. Thomas Harvey III, president of the commercial redevelopment firm Harvey, Hanna and Associates; Terri Connor Kelly, president and CEO of W.L. Gore and Associates; Claire M. Renzetti, professor of sociology at the University of Kentucky; and Leonard P. Stark, U.S. District Court judge.
'Resilience Engineering'
The University of Delaware's Nii Attoh-Okine recently published a new book with Cambridge University Press, "Resilience Engineering: Models and Analysis."
Reviresco June run
UD ROTC cadets will run from New York City to Miami this month to raise awareness about veterans' affairs.
Established in 1984, the Alumni Wall of Fame recognizes outstanding professional and public service achievements by UD graduates. The induction ceremony was part of Alumni Weekend festivities held throughout the weekend on campus.
The ceremony opened with a welcome by UD Alumni Association President Kenneth Jones and remarks by Brielle Gerry and Ryan Leonard, the 2014 recipients of the UDAA's Emalea Pusey Warner Award and Alexander J. Taylor Sr. Award, as the outstanding senior woman and man, respectively.
The inductees were recognized by Monica Taylor, vice president for development and alumni relations, who praised them for their successes and thanked them for their continuing involvement with their alma mater.
Alumni Wall of Fame Class of 2014
Anne M. Gaffney received a bachelor of science degree in chemistry and mathematics from Mount Holyoke College in 1976 then decided to further her education at UD, from which she received a doctorate in chemistry in 1982. 
After graduation, Gaffney started a career in industrial chemistry, taking on numerous roles, from bench chemist to vice president of technology. She now leads research and development with specialty materials at Invista in Newark, Delaware, one of the world's largest companies specializing in integrating production of fibers, resin, and intermediate materials.
She has been the recipient of several honors, including an American Chemical Society (ACS) Industrial Chemistry Award in 2013, a Service and Leadership Award through the World Congress on Oxidation Catalysis in 2013, and a Distinguished Service Award in Petroleum Chemistry from ACS in 2010. 
Several commercial technologies have resulted from Gaffney's various inventions. Her new, environmentally favorable route to octane enhancers received the 2009 American Chemical Society Green Chemistry Award. She has also recently discovered a new, cost and energy effective route to nylon 12 that is scheduled to be commercialized in 2016. 
Gaffney attributes her successful career to the excellent leadership provided by her adviser, the late Dr. Harold Kwart, and the supporting chemistry and biochemistry and chemical and biomolecular engineering faculty at UD.
"I was excited to join the Ph.D. chemistry degree program at the University of Delaware in 1977 and be one of the first incoming graduate chemistry students to be involved in the new catalysis center," Gaffney said. "My adviser was one of the center founders and we were heavily involved in several of the collaborative academic-industrial projects shared between the chemistry and chemical engineering departments. The catalysis center quickly grew to become one of the best in the country and has retained that lead for decades.
"My adviser, professors and fellow students were highly motivating and inspirational during these transformative years. The experiences and knowledge gained while earning my degree were most valuable in preparing me for a most rewarding career in industry."
E. Thomas Harvey III received a bachelor of science in business administration from UD in 1975. He has been a leader in both business and philanthropic interests in Delaware for nearly four decades, and is president Harvey, Hanna and Associates, a commercial redevelopment firm that owns and manages more than three million square feet of industrial, commercial, retail, and hospitality property throughout the Mid-Atlantic region.
After graduation, Harvey built, owned and managed multiple solid waste management and recycling companies for over 25 years. The commercial and residential waste management companies he operated offered the first-ever and only recycling services in Delaware, thus forging a "green" and sustainable environmental future throughout the region. 
Harvey has served as regional vice president of USA Waste (now Waste Management Inc.), served on the board of governors of the Environmental Industries Association and the chairman's council of the National Solid Waste Management Association, and served as past president of the Maryland and Delaware Solid Waste Management Association.
He was elected chairman of the board of trustees of Goldey-Beacom College, served as president of the board of the Centerville School, and is a past member of the Sanford School board of directors
Harvey has been a UD Delaware Diamonds benefactor since 2006, served as chair of the Delaware Diamonds Society since 2012, and has served on the advisory board of the Alfred Lerner College of Business and Economics.
"I entered the University in the fall of 1970 as an immature 18 year old. I gave civil engineering a try but after two semesters I clearly knew this was not where my interests were. After taking macro and micro economics with Prof. Eleanor Craig, I knew I liked her and the subject. And after transferring to the business school, I never looked back.
"When the time came to declare a concentration, I chose qualitative operations management.  I enjoyed unraveling organizational issues and learning about teams and organizations. I have used these skills daily for nearly 40 years. My days at Delaware began as a kid, but I left as a young man on a mission."
Terri Connor Kelly received her bachelor of science in mechanical engineering from the University of Delaware in 1983, graduating summa cum laude, the highest distinctive honors. Shortly after graduation, she joined W.L. Gore and Associates and is now president and CEO of the company.
The company specializes in fluoropolymer-based materials that are utilized in a wide array of high-value products, including Gore-Tex fabric, medical devices, filtration and venting products and many other advanced technology solutions. 
Starting out as an engineer with the company, Kelly gained experience as a product specialist with the military fabrics business — a unit she eventually led — helping it grow from a small start-up venture into a leading producer of protective products for the global armed forces. In 1998, she became part of the leadership team for the Global Fabrics Division, and also served on the Enterprise Operations Committee working closely with the CEO and other leaders to help guide the strategic direction of the company. 
Kelly's leadership abilities have driven her success in a company known for its non-hierarchical "lattice" structure. After earning the respect of her colleagues for her remarkable achievement and determination within the company, she earned the title of president and CEO in 2005 — one of the few titles within the enterprise — following a peer-driven selection process. 
In addition to her role at Gore, Kelly serves on the University of Delaware Board of Trustees and on the board of directors of the Nemours Foundation, one of the nation's leading children's health care systems. She is a member of the Management Executives' Society, G100, and the International Women's Forum.
"My time at the University of Delaware brings back so many fond memories, from my journey as a mechanical engineer, to the many good friends that I made, to meeting my husband, John, on campus," Kelly said. "I will always be grateful for the impact the University has had on my life and the foundational skills that I received as an engineer.  These skills have afforded me the opportunity to make a difference throughout my career at Gore, and in the community.
"I never imagined that my connection with the University would grow even stronger, as a trustee of the board and member of the Engineering Advisory Council. The many new friends and colleagues that I have met, including the talented faculty, fellow trustees, council members and students, give me great confidence for the continued success and overall impact of the University."
Claire M. Renzetti studied sociology at UD and received her bachelor's degree in 1977, master's in 1979 and doctorate in 1982. She is the Judi Conway Patton Endowed Chair for Studies of Violence against Women and professor and chair of sociology at the University of Kentucky. Her teaching and research specialties are the sociology of gender; violence in intimate relationships; sociology of law and criminology; and marriage, families, and intimate relationships. 
Renzetti is the founding editor of the international, interdisciplinary journal Violence Against Women. She is also editor of the University of California Gender and Justice book series, and co-editor of the Interpersonal Violence book series published by Oxford University Press. She is the author or editor of 21 books, including the Feminist Criminology (Routledge, 2013), The International Handbook of Gender and Crime Studies (with Susan Miller and Angela Gover; Routledge, 2013), Clergy Sexual Abuse (with Sandra Yocum; Northeastern University Press, 2013), and Violent Betrayal: Partner Abuse in Lesbian Relationships, the first national study of intimate partner violence in lesbian relationships (Sage, 1992). 
Renzetti is a former Fulbright Senior Scholar to LaTrobe University in Melbourne, Australia, and recipient of the Major Achievement Award of the Critical Criminology Division of the American Society of Criminology (ASC), the Outstanding Scholar Award of the Women and Crime Division of the ASC, and the Tenglemann Award, the highest award bestowed by Saint Joseph's University on a faculty member to recognize career achievement in research and teaching. 
Also, she is former president of the Society for the Study of Social Problems and of Alpha Kappa Delta, the international sociological honor society.
Her current research includes studies of the effects of religiosity and religious self-regulation on intimate partner violence perpetration, an evaluation of a therapeutic horticulture program at a battered women's shelter in Lexington, Kentucky, and an evaluation of a web-based educational intervention for improving health care professionals' ability to identify human trafficking victims.
 "As someone who has worked in higher education for more than 30 years, I have come to deeply appreciate my education at the University of Delaware, both undergraduate and graduate," Renzetti said. "My professors and mentors, especially Dr. Frank Scarpitti and the late Dr. William Chambliss, challenged me to think critically and innovatively, to understand the structural causes of social problems, and to confront injustice head-on but with compassion for its victims. For all of this – and more – I will always be grateful."
Leonard P. Stark was a Eugene du Pont Memorial Distinguished Scholar at UD and in 1991 earned dual undergraduate degrees in political science and economics, as well as a minor in women's studies and a master's degree in history — all in four years. He is a judge of the U.S. District Court for the District of Delaware, appointed in 2010 by President Barack Obama.
Stark was selected as UD's eighth Rhodes Scholar and received his doctorate from Oxford University. He earned his law degree from Yale University, where he served as senior editor of the Yale Law Journal. He is the author of the book Choosing a Leader: Party Leadership Contests in Britain from Macmillan to Blair, as well as several articles in law and academic journals. 
Stark began his legal career in Wilmington, Delaware, as a law clerk to Judge Walter K. Stapleton of the U.S. Court of Appeals for the Third Circuit. He was an assistant U.S. attorney for the District of Delaware and an associate in the Delaware office of Skadden, Arps, Slate, Meagher and Flom LLP.
He served as U.S. magistrate judge for the District of Delaware from 2007-10 before being appointed to the U.S. District Court.
Stark has received many previous honors and awards from the University, including the Alexander J. Taylor Sr. Award for Outstanding Senior Man and the 2009 Outstanding Alumni Award, which recognizes exemplary dedication and volunteer work to the University. He has twice delivered the address at Winter Commencement, served as a member of the UD Alumni Association board for 10 years, including terms as vice president and president, was named a recipient of the UD Presidential Citation for Outstanding Achievement, and served as an adjunct professor from 1998-99.
"The first time I looked at the UD course catalog, I thought I wanted to take every class. Then the University gave me a scholarship and four years to try do just that," Stark said. "In response to whatever crazy ideas I proposed – like writing a senior thesis as a sophomore, or enrolling in graduate and undergraduate courses at the same time – the most negative reaction I got was to be asked, 'how can we help?' I don't think anyone has ever received a better college education than I did at the University of Delaware. And I left UD with both the skills and the confidence to do anything I wanted with my career."
Additional Alumni Weekend articles, resources
For the main Alumni Weekend article, click here.
For an article on the State of the University presentation, click here.
For the UD social media Storify site, click here.
An image gallery will be available at UD in Photos.
Photo by Evan Krape