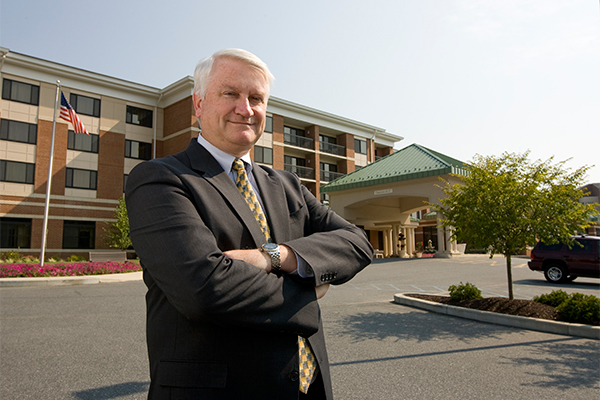 Sullivan elected
UD's Sullivan elected chairman of Wilmington convention, visitors bureau board
9:48 a.m., June 13, 2014--William A. Sullivan, managing director of Marriott's Courtyard Newark at the University of Delaware campus hotel, has been elected chairman of the board of the Greater Wilmington Convention and Visitors Bureau.
Sullivan succeeds Jill MacKenzie of Hagley Museum and Library, who will serve as first vice chairman. Carolyn Grubb, DuPont Hospitality, is second vice chairman; Brad Wenger, Hilton Wilmington/Christiana, is treasurer; and Harry Roosevelt, former director of the Delaware Safety Council, is secretary.
'Resilience Engineering'
The University of Delaware's Nii Attoh-Okine recently published a new book with Cambridge University Press, "Resilience Engineering: Models and Analysis."
Reviresco June run
UD ROTC cadets will run from New York City to Miami this month to raise awareness about veterans' affairs.
Sarah Willoughby, executive director of GWCVB, said, "We are delighted that Bill Sullivan has been elected chairman of the board. He will be a real asset to our organization. Bill has been recognized repeatedly for his expertise in the hospitality industry. He's keenly aware of the bureau's mission, having served as a board member since 2009 and chairman of the Marketing Committee for several years."
As managing director, Sullivan coordinates the "experiential training" at the hotel for students in the University's Department of Hotel, Restaurant and Institutional Management (HRIM). He is employed by the Shaner Hotel Group as the on-site manager for the University of Delaware Blue Hen LLC hotel, and is also an adjunct faculty instructor at both UD and Widener University in Chester, Pennsylvania.
Sullivan was the recipient of the Delaware Tourism Roy Klein Hall of Fame Award in 2011, UD's Renaissance Award for leadership in the community of Newark in 2009 and the Governor's Tourism Award in 2007. Also in 2007, he was one of 10 people in the industry to receive the Technology Award of Merit from the Hospitality Finance and Technology Professionals for the application of technology to improve business results and customer service.
The UD hotel has received the Platinum Award for Customer Service, Marriott's highest award for guest services, for nine consecutive years.