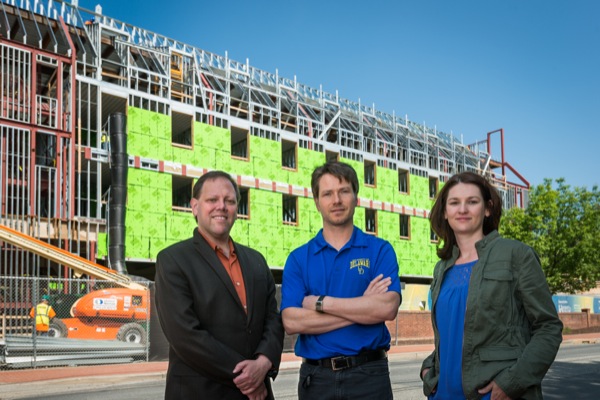 Steel yourself
Engineering research aimed at environmentally sustainable building construction
1:18 p.m., June 3, 2014--Steel is the most recycled material in the world. But there are questions as to whether structural steel can be safely reused in buildings and, if so, under what conditions.
A team of researchers at the University of Delaware has been awarded a three-year $300,000 grant from the National Science Foundation to address these questions and lay the foundation for a new paradigm to reuse structural steel members in contrast to recycling them.
Chronic wounds
UD's Millicent Sullivan and Kristi Kiick have received a $1.4 million grant from the National Institutes of Health for research that could provide a new approach to the treatment of chronic wounds.
Prof. Heck's legacy
The American Chemical Society is highlighting the legacy of the late Nobel laureate Richard Heck, the Willis F. Harrington Professor Emeritus of Chemistry at the University of Delaware with a digital tribute on its publications website.
The advantages of reuse are that it eliminates the process of melting down and reforming the steel members, which is an energy-intensive process with a large carbon footprint. The award was made through the agency's Environmental Sustainability Program.
Led by Jennifer McConnell, associate professor in the Department of Civil and Environmental Engineering, the research has the potential to dramatically reduce the need for recycling steel members.
"We hope to cultivate a cultural shift in how buildings are designed, constructed, deconstructed, and repurposed in order to have a more thoughtful regard for energy and natural resource consumption," says McConnell.
Through the proposed work, the researchers will generate evidence as to whether the structural integrity of structural steel members at the end of their service life is generally acceptable for reuse applications. 
"The reuse of structural steel is currently exceedingly rare, and reusing primary structural steel members as primary structural members is even less common," McConnell says. "Our goal is to show that reuse of structural steel is generally acceptable, or at least to identify specific conditions in which reuse of structural steel is appropriate."
She is partnering on the project with Thomas Schumacher, assistant professor of civil and environmental engineering, and Erik Thostenson, assistant professor of mechanical engineering.
Thostenson pioneered the concept of carbon nanotube-based sensing skins for detecting deformation and damage in fiber-reinforced composites, and over the past several years his research group has examined many aspects of carbon nanotube-based sensing under a variety of loading conditions. In this project, the researchers will investigate the use of smart sensing skins for monitoring construction-induced stresses in buildings.
"This research project provides an excellent opportunity to educate our students about sustainability issues in civil engineering," says Schumacher, who teaches a course titled Introduction to Sustainability Principles in Civil Engineering. His research focuses on the development of novel sensing methodologies for non-destructive testing and structural health monitoring. "The key to sustainability is to first reduce, then reuse, and as a last resort recycle."
The grant will also support outreach programs to K-12 students and the public.
Article by Diane Kukich