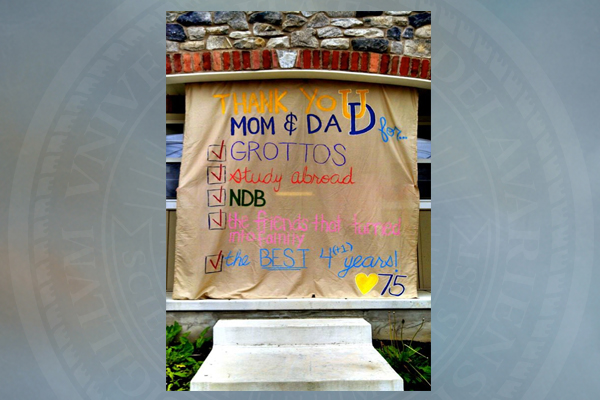 Spirited competition
Office of Alumni Relations announces Class of 2014 sheet contest winners
11 a.m., June 30, 2014--The University of Delaware's Office of Alumni Relations has announced the winners of the Class of 2014 senior sheet contest — Ashley McGarvey, Annie Reilly, Brittany Phipps, Leah Castronova, Alyssa Drummy and Jessica Bock.
While sheet decorating is a longstanding tradition among Blue Hens -- students display their sheets outside of their homes and express their true "Blue Hen Forever" pride by decorating them in celebration of their families, friends and years spent at UD -- this is only the second year for the Office of Alumni Relations contest.
'Resilience Engineering'
The University of Delaware's Nii Attoh-Okine recently published a new book with Cambridge University Press, "Resilience Engineering: Models and Analysis."
Reviresco June run
UD ROTC cadets will run from New York City to Miami this month to raise awareness about veterans' affairs.
The contest took place through Facebook, where contestants were prompted to post a picture of their decorated sheets and compete for the most "likes." The winners had an overall 239 likes, while the second place team had 198 likes and the third place team 62 likes.
The winners -- McGarvey, Reilly, Phipps, Castronova, Drummy and Bock -- decorated their sheet with a checklist to count off their favorite memories at UD, while also making it a vibrant blue and gold dedication to their parents. 
Their checklist included popular student eateries such as Grotto's and Newark Bagel and Deli, trips to study abroad, "friends that turned into family," and "the best four years of their lives." 
"We thought that the checklist would be a cute and funny way to show off some of our favorite memories together," said McGarvey, who received a bachelor of science degree in nursing. "We wanted to make the sheet as a public thank you to our parents and families and to let them know that we had gotten everything we could have hoped for out of our experiences at UD."
After their four-year journey had finally reached its end, the girls decided to spend their last night before commencement going through a jar filled with notes they had contributed throughout the year — their memory jar. 
"We kept all of our notes a secret," said McGarvey. "We sat in our living room (that had no furniture left in it) and opened all of them together. It was an amazing and hysterical way to end our year in 75 East Cleveland."
"Though our contest winners have left the University of Delaware with their degrees, they will remain Blue Hens Forever," a representative of the Office of Alumni relations said. "By recognizing our 2014 graduates, the Office of Alumni Relations can only hope that the senior sheet contest has encouraged them to cherish their memories as Blue Hens and inspired them to stay engaged as enthusiastic alumni."
Office of Alumni Relations
The University of Delaware Office of Alumni Relations promotes a lifelong relationship between the University and more than 160,000 living alumni, all of whom are members of the UD Alumni Association, by providing programs, events and awards for alumni and students, maintaining traditions and fostering Blue Hen pride. For more information, visit the Alumni Relations website. 
Article by Megan Kiger