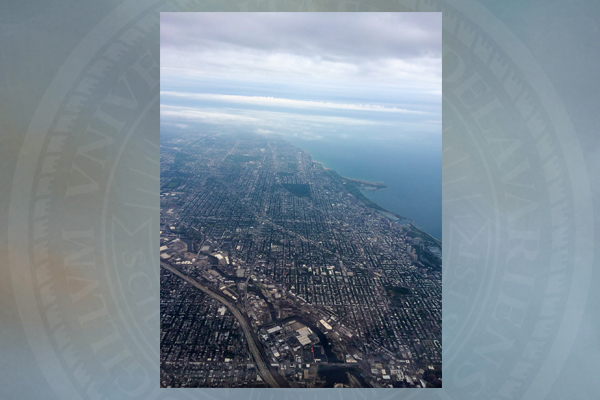 Plastino Scholars on social media
Travel the world with Plastino Scholars this summer through UD social media
2 p.m., June 4, 2014--The Plastino Scholars Program, established in 2007 by a generous gift from David A. Plastino, a 1978 graduate of the University of Delaware's College of Arts and Sciences, awards grants to undergraduates for the opportunity to conduct research on a topic of their choosing. 
This summer's Plastino Scholars will be traveling the world, and thanks to a partnership with UD social media, the entire campus community can follow along. 
'Resilience Engineering'
The University of Delaware's Nii Attoh-Okine recently published a new book with Cambridge University Press, "Resilience Engineering: Models and Analysis."
Reviresco June run
UD ROTC cadets will run from New York City to Miami this month to raise awareness about veterans' affairs.
Each Plastino Scholar will be keeping and updating a blog. Additionally, their content will be shared regularly through UD's official social media accounts. 
Click on a Plastino Scholar's name below to see his or her blog:
Becky Bronstein, an environmental science major with minors in geography and environmental humanities, will follow her passion for sustainable living by getting hands-on experience from four of the most renowned sustainable communities in the world. 
This summer, Bronstein will work on a permaculture garden at an ecovillage in Iceland, learn from another ecovillage in Scotland, and volunteer with the first sustainable town in Ireland. In January 2015, she will visit the Seneca Treehouse Project in South Carolina, a sustainable community and learning center.
As a member of Newark's Down To Earth Co-op, Bronstein plans to bring what she learns back to her own community.
Jocelyn Moore, a junior organizational and community leadership major from New Jersey, will further pursue her interest in human trafficking policy by volunteering at three different anti-trafficking organizations this summer. During each three-week stay, Moore will be part of the team, helping with planning and executing events and initiatives.
Her goal is to gain a better understanding of how these organizations function, with a focus on victim care, policy advocacy, public relations, and fundraising.
Mark Rucci, a junior public policy major, created the School Nutritional Awareness Consortium for his Plastino Scholarship – a group of faculty, staff, students and parents that is strategizing policy initiatives to offer public school students free breakfast and lunch and healthier meal options in school.
Rucci will spend the month of June conducting research in five different school districts throughout the country that are part of a program that funds two free meals for students. He will visit Illinois, Kentucky, West Virginia, Ohio and Massachusetts to collect data, talk to administrators and interview families. 
Rucci will use his research to create a similar program with the superintendent of the Wildwood school district, where more than 46 percent of students are living in poverty.
Two more 2014 Plastino Scholars, Elana Berk and Christian Vitale, will travel to New Mexico and Cambodia, respectively, and share updates from their projects next Winter Session.