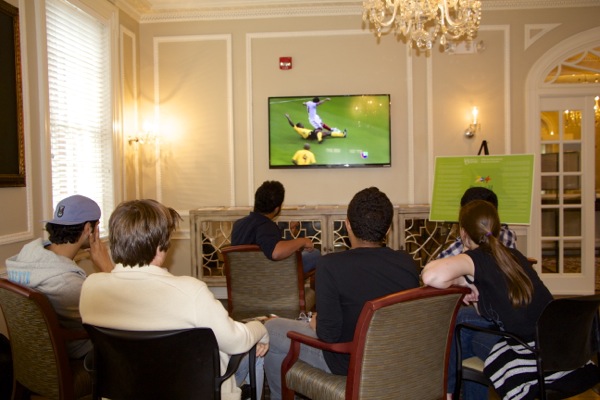 OISS summer programs
OISS to screen all 64 World Cup games as part of summer offerings
1:42 p.m., June 12, 2014--The University of Delaware Office for International Students and Scholars (OISS) has announced summer programs that include FIFA World Cup screenings, ice cream socials and field trips.
All are welcome to attend the live broadcast of the FIFA World Cup kickoff game – host Brazil against Croatia — at 4 p.m., today, Thursday, June 12, at the Wright House located at 44 Kent Way. Visitors are encouraged to cheer on their favorite team and enjoy pizza at the opening game.
Fulbright awards
Three University of Delaware students and an alumna have received word this spring that they will travel abroad as part of the newest class of Fulbright Student Program award winners.
Peace Corps plans
Two University of Delaware students, John McCarron and Bridgette Spritz, have been selected as Peace Corps volunteers and will serve in Ghana and Rwanda.
All 64 World Cup games will be shown on the first floor, where large screen televisions will allow for multiple games to be shown. Prizes will be given away and there will be opportunities for fan photos to be taken at a photo booth during select games. 
Anyone interested in attending is encouraged to follow OISS on Facebook and Twitter to receive updates.
Summer programs:
World Cup games broadcast: Check the schedule for times.
Ice cream social: June 20, 3-5 p.m.
Field trip to Six Flags: June 27, 8 a.m.-7 p.m.
Ice cream social: July 11, 3-5 p.m.
Field trip to Ocean City, New Jersey: July 25, 8 a.m.-7 p.m.
Ice cream social: Aug. 1, 3-5 p.m.
Article by Elizabeth Adams