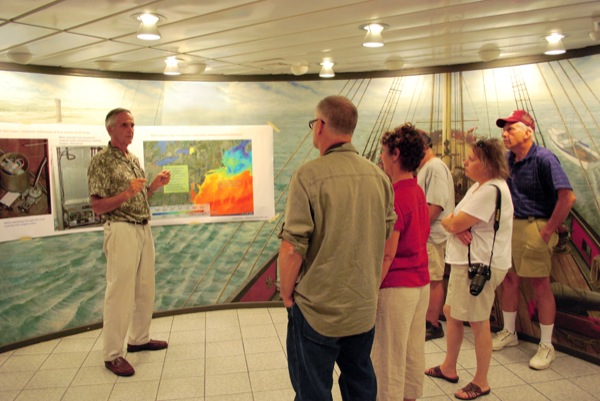 June 19: Ocean Currents lecture
Ocean Currents series continues with focus on climate change, communication
2:53 p.m., June 11, 2014--Tracking any environmental trends, including climate change, can be a long process, taking years before patterns clearly emerge.
Fortunately, Jonathan Sharp has decades of information on the waters of Delaware Bay.
June 5: Blue Hen 5K
University of Delaware graduates planning to attend Alumni Weekend are encouraged to register for the annual Blue Hen 5K walk and run, which will be held Sunday morning, June 5.
June 6-9: Food and culture series
The 20th annual June Lecture Series at the Osher Lifelong Learning Institute at UD in Wilmington will be held June 6-9. Titled 'June a la Carte,' this year's program focuses on great political documents, feminism, world politics and a Newark cuisine sampler.
The veteran professor of oceanography in the University of Delaware's College of Earth, Ocean, and Environment has carefully examined the Delaware Estuary to create a detailed study of water conditions and biological responses. Several years ago he expanded his efforts by starting a monitoring program on the Cape May-Lewes Ferry to paint a better picture of the environmental conditions in the mouth of the Delaware Bay. 
The results of his work are clear.
"We have seen things through the ferry monitoring that show dramatic response to large weather events, such as storm flooding," Sharp said. "It is possible that these indicate changes in response to climate change."
On Thursday, June 19, Sharp will discuss his recent activities as part of the Ocean Currents Lecture Series. His talk, titled "Establishing Ship-Of-Opportunity Monitoring and Teaching Scientists How to Talk," will also examine scientific communication — specifically, the gap between scientific knowledge and public opinion. 
The lecture will be held at 7 p.m. in Room 104 of the Cannon Laboratory at UD's Hugh R. Sharp Campus, located at 700 Pilottown Road in Lewes. 
In 2011, Sharp installed equipment on one of the ferries. The equipment includes a meteorological station that measures air temperature, wind speed and direction, humidity and barometric pressure, providing detailed information about the atmospheric conditions as the ferry travels back and forth numerous times every day from Lewes to Cape May, New Jersey.
The equipment also takes detailed water measurements, including temperature, salinity, turbidity, dissolved oxygen and chlorophyll content of the water across the mouth of the Delaware Bay. 
This array of instruments is unique because most atmospheric and water quality measurements are taken from fixed locations. With regular frequent transects across the mouth of the bay, it is possible for scientists to understand biological production of the lower Delaware Bay, as well as water exchange between the bay and coastal ocean. Also, a detailed picture is collected of variations in atmospheric conditions over time and space. 
The unique system provides large quantities of data every day, which can then paint a very accurate picture of the changing water and air quality in the Delaware Bay. For example, if a large storm hits, the data give information on how the large volume of rainwater entering the bay has impact on the ecosystem. 
In addition to this, over time the data can accurately track long-term trends in water quality, and the effects of climate change on these systems will be made clearer.
In addition to his research, Sharp is also an advocate for improving scientists' communication to the public. He has observed a general sense of apathy, or even outright denial of some environmental issues, and he feels that the scientific community is not doing a good job of providing information to the public to overcome this.
Sharp said he believes that when training scientists to do research, awareness of the general public's interests and scientific background are not considered. There is a perception by much of the public of scientists being tedious and boring, which can lead to audiences not listening to the scientists' messages.
"Ninety-eight percent of knowledgeable environmental scientists are in agreement that human-based climate change is occurring, but a large portion of the general public does not believe this to be the case," Sharp said. "We need to figure out, 'What are we doing wrong?'"
In attempting to improve communication, Sharp has worked with members of the film industry, as well as with a science correspondent from National Public Radio, in order to inform scientists about public attitudes and why the public is not more interested in these environmental issues.
Sharp's lecture is free and open to the public, but reservations are required due to limited seating and can be made by contacting Marcia Pettay at mpettay@udel.edu or 302-645-4346. Light refreshments will be served.
Additional Ocean Currents lectures scheduled for this summer are: 
July: Bill Ullman, real-time water quality measurements on Delmarva.
August: Jim Corbett, shipping impacts and innovation in the marine environment.
For more information, visit CEOE's Events Page.
Article by Eadoh Reshef
Photo by Lisa Tossey