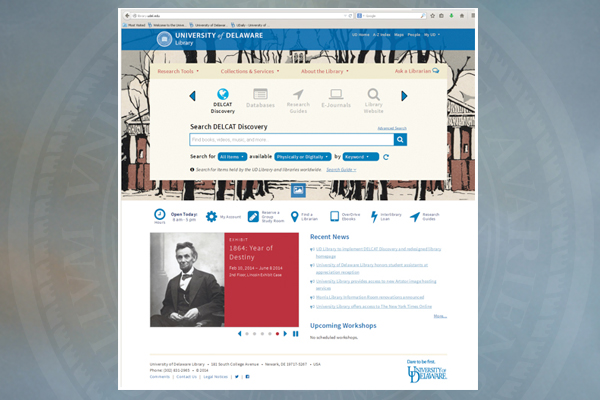 Library homepage
Redesigned University of Delaware Library homepage now available
11:24 a.m., June 9, 2014--The University of Delaware Library has announced an exciting newly redesigned library homepage that went into production today, Monday, June 9. 
The new library homepage incorporates search features from DELCAT Discovery and other research resources offered by the library. In addition, the most often-used library services are more easily accessible for users. 
June 6: UDid It! Picnic
All UD faculty and staff members are invited to attend the annual UDid It! employee appreciation picnic, set from 11 a.m.-1:30 p.m., Monday, June 6, on The Green.
2FA protects you
If you are using two-factor authentication (2FA), even if a hacker has your password, your information is probably safe.
The redesigned homepage was designed based upon feedback received from a number of student focus groups and includes their feedback in the design. 
The background images for the library homepage are taken from the Library Digital Collections and are intended to bring additional awareness of digitized resources offered globally by the University of Delaware Library. The originals of the digitized resources are accessible physically in Special Collections located on the second floor of the Morris Library.
"The library homepage is expected to evolve as technology, resources and services change. Enhancements to the library homepage are expected to be implemented over the summer as well as into the foreseeable future," stated Susan Brynteson, vice provost and May Morris university librarian.
The newly designed library homepage was created under the leadership of Audrey Hamelers, assistant librarian in the Library Information Technology User Support Department of the University of Delaware Library, along with the support of a number of library staff members.