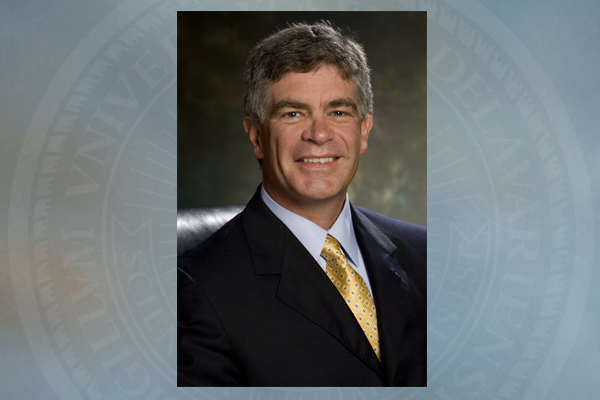 Harker appointed
University president named to Homeland Security Academic Advisory Council
10:17 a.m., June 25, 2014--University of Delaware President Patrick Harker has been appointed to the U.S. Department of Homeland Security Academic Advisory Council.
Harker will serve a two-year term on the council, which is charged with providing assistance to the department on matters related to student and recent graduate recruitment, international students, academic research and faculty exchanges, campus resilience and preparedness, homeland security academic programs and cybersecurity.
'Resilience Engineering'
The University of Delaware's Nii Attoh-Okine recently published a new book with Cambridge University Press, "Resilience Engineering: Models and Analysis."
Reviresco June run
UD ROTC cadets will run from New York City to Miami this month to raise awareness about veterans' affairs.
"I'm looking forward to serving in this capacity to help ensure the safety and security of individuals and intellectual property for Americans, as well as for citizens of other nations," Harker said.
Delaware's Congressional delegation – U.S. Sens. Tom Carper and Chris Coons and U.S. Rep. John Carney – congratulated Harker on his appointment. 
"I commend Secretary Johnson for appointing Dr. Harker to this important body," said Carper, chairman of the Committee on Homeland Security and Governmental Affairs. "Under Dr. Harker's direction, UD has become a recognized leader in areas like cybersecurity, disaster response and biosecurity. For years, those of us in Delaware and the academic community have witnessed his leadership and knowledge first-hand, and now he will be able to lend his expertise in support of the Department of Homeland Security's mission. I know Dr. Harker's counsel and the work performed every day at the University of Delaware will be especially valuable to Secretary Johnson and his team at the Department."
Coons added, "More than ever before, our economy and security depend on the skills of a highly trained cyber workforce. Expanding that workforce to meet our growing needs is a national security imperative, and thanks to the leadership of President Harker, that work is happening in earnest at the University of Delaware. President Harker's vision and dedication have helped make UD a national leader in defense research and education, and I know he will bring the same vigor to his role on the Homeland Security Academic Advisory Council. I look forward to following his work and congratulate him on this well-deserved honor."
And Carney said, "The University of Delaware, under the leadership of President Harker, has become a center of excellence conducting critical research on cybersecurity, protecting the country's food supply, and defending the nation from other threats both inside and outside the country. President Harker's appointment to the Department of Homeland Security's Academic Advisory Council will help keep UD on the cutting edge of the nation's research needs, and better utilize the tremendous work being done by its faculty and students."
The University is performing cutting-edge research on many homeland security issues. UD's new cybersecurity initiative headed by national defense expert Starnes Walker will establish a pipeline of graduates with the skills required to address the evolving threats in cyberspace. UD is also home to world-class avian influenza research, as well as the Disaster Research Center and its specialized library containing the world's most complete collection on the social and behavioral aspects of disasters. 
Harker has been president of the University of Delaware since 2007, and came to UD after serving as dean of the Wharton School at the University of Pennsylvania. He has previous experience with the federal government, having been named a White House Fellow in 1991 by President George H.W. Bush and serving from 1991-92 as a special assistant to FBI Director William S. Sessions.