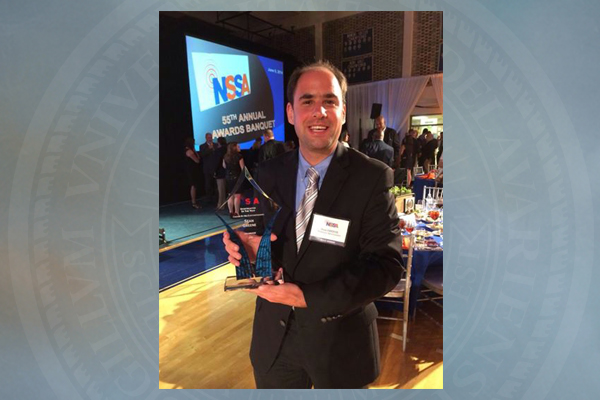 For the Record, June 13, 2014
University community reports recent awards, presentations, publications
9:10 a.m., June 13, 2014--For the Record provides information about recent professional activities of University of Delaware faculty, staff, students and alumni.
Recent appointments, awards, congressional testimony, panels, presentations and publications include the following:
From graduates, faculty
As it neared time for the processional to open the University of Delaware Commencement ceremonies, graduating students and faculty members shared their feelings about what the event means to them.
Doctoral hooding
It was a day of triumph, cheers and collective relief as more than 160 students from 21 nations participated in the University of Delaware's Doctoral Hooding Convocation held Friday morning on The Green.
Appointments
Shekhar Garde, who holds a doctorate in chemical engineering from UD, has been named the new dean of the School of Engineering at Rensselaer Polytechnic Institute. Garde, whose research focuses on understanding water's role in biological structure and function, joined the engineering school at RPI in 1999 as an assistant professor, becoming a full professor in 2006. "The contributions and leadership of Dr. Garde will be pivotal as we continue to educate the technology leaders of tomorrow and purseu innovative and interdisciplinary research to address the most pressing challenges facing our world," said Rensselaer President Shirley Ann Jackson.
Phillip Savage, who holds a doctorate in chemical engineering from UD, has been named the new head of the Department of Chemical Engineering at Penn State University effective Aug. 20. Savage joins Penn State from the University of Michigan, where he serves as Arthur F. Thurnau Professor and interim head of chemical engineering. Amr Elnashai, Harold and Inge Marcus Dean of Engineering, said, "With his experience at a peer institution, and with his passion for Penn State, Phillip will continue on the path of excellence that Penn State's chemical engineering faculty, staff and students are invested in."
Awards
Sean Greene, a UD alumnus and past member of the WVUD broadcasting team who is now working for Delmarva Broadcasting, has been honored by the National Sportscasters and Sportswriters Association as Delaware's sportscaster of the year. Greene received the award during an awards banquet in North Carolina.
Leigh Kaminski, an elementary teacher education student, was selected as a recipient of the 2014 Hannah Amgott Memorial Scholarship and recognized by the Delaware Valley Education Consortium at its annual awards luncheon on May 13. This competitive scholarship recognizes exceptional future educators. Applications are judged on merit, defined as strong academic record, excellent written communication skills, outstanding references, and genuine interested in and commitment to the field of teaching. Kaminski is majoring in elementary and special education, with a minor in mathematics. UD is one of 27 colleges and universities with teacher education programs that make up the Delaware Valley Education Consortium (DVEC). Each year DVEC holds the Greater Philadelphia Teacher Job Fair. With attendance at the fair exceeding 2,000 job searchers, it is a major source of employment options for many UD teacher education students. Kaminski was one of 19 juniors from UD who applied for the scholarship this year and competed against about 60 other applicants to win one of five $1,500 scholarships this year. She was the only award recipient from UD.
Congressional testimony
David R. Legates, professor of geography, testified before the U.S. Senate Subcommittee on Green Jobs and the New Economy during a hearing June 3 on "Farming, Fishing, Forestry and Hunting in an Era of Changing Climate." Legates addressed a number of topics, including global warming and agricultural impacts, historical patterns and trends in drought, and concerns about the scientific method versus post-normal science in discussions about climate change. For the complete statement by Legates, click here.
Panels
Sheldon D. Pollack, professor of law and political science, was a discussant on a roundtable panel on "Making the Modern American Fiscal State," at the 50th annual Conference of the Law and Society Association in Minneapolis on May 31.
Presentations
Gerald Kauffman, project director of the Water Resources Agency (WRA), unit of the School of Public Policy and Administration's Institute for Public Administration, was the keynote speaker at the sixth annual Sustainable Raritan River Conference and Awards Ceremony at Rutgers Cook Campus Center in New Brunswick, N.J., on Friday, June 13. Kauffman's presentation was titled "Valuing Natural Capital and Ecosystem Services." 
James M. Brophy, Francis H. Squire Professor of History, presented "The Second Wave: Translation and Political Knowledges in Central Europe, 1820-1850," Cultural Mediators in Europe, KU Leuven, Brussels, June 6.
Philip Goldstein, professor emeritus of English, Associate in Arts Program, Wilmington, presented a paper titled "Mark Twain's Detective Fiction: From Pudd'nHead Wilson to The Double-Barrelled Detective Story" at the American Literature Association convention in Washington, D.C., May 23.
David Pong, professor emeritus of history and Asian studies, delivered the a lecture on "China's First Railway: International Relations and China's Modern Development -- Conflict and Contradictions" in Mandarin Chinese as part of the University of Delaware-Peking University Exchange Program on May 7 at the Center for Classical Chinese Studies at Peking University.
Publications
James M. Brophy, Francis H. Squire Professor of History, "Pushing Back: How Some Clever German Publishers Evaded the Crackdown of Their Trade," Berlin Journal 26 (spring 2014): 24-30.
To submit information to be included in For the Record, write to ud-ocm@udel.edu.