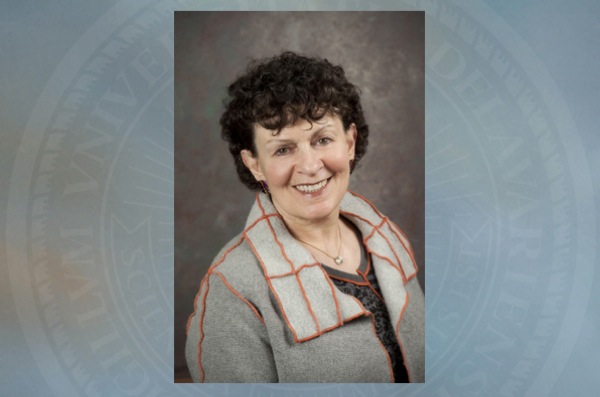 Practical makes perfect
Postdoctoral fellows learn to conduct education research
11:54 a.m., June 5, 2014--The University of Delaware has created a postdoctoral training program to train top-notch new Ph.D.'s how to conduct rigorous educational research that bridges the related fields of cognitive science and education.
The Institute of Education Sciences (IES) awarded funding for a Postdoctoral Training Grant to College of Education and Human Development faculty members Roberta Golinkoff, Nancy Jordan and Henry May.
From graduates, faculty
As it neared time for the processional to open the University of Delaware Commencement ceremonies, graduating students and faculty members shared their feelings about what the event means to them.
Doctoral hooding
It was a day of triumph, cheers and collective relief as more than 160 students from 21 nations participated in the University of Delaware's Doctoral Hooding Convocation held Friday morning on The Green.
"Some education researchers do not incorporate cognitive science when they probe how children learn mathematics or reading or any topic relevant to education," said Golinkoff. "Conversely, doctoral students trained in cognitive science may not have had the opportunity to work in school settings to apply their findings."
The postdoctoral students recruited through this training grant will be conducting research that will impact the nation's education system. As fellows in this interdisciplinary program, they will develop a better understanding regarding:
How children learn in and out of classrooms;
How to communicate their results to educators and lay audiences, in addition to writing journal publications; and
How to create educational interventions to study the implementation of their research findings.
The $600,000, four-year training grant will allow each postdoctoral fellow to remain in residence for two years. Vinaya Rajan and Ilyse Resnick were the first two postdoctoral fellows accepted into the program in the fall of 2013. Mark Rose Lewis of the University of Wisconsin will join the program in October. 
"I was attracted to this opportunity as it will train me in how to apply cognitive science -- where I am formally trained -- to educational practices," said Resnick. "My research focuses on how people reason about magnitudes outside of human perception (e.g., nanoseconds/geologic time, size of an atom/size of the universe), and I will translate that to aid in the development of related educational activities."
Rajan is also looking to expand her expertise by combining her doctorate in early childhood neurocognitive development with a specific education content area. She is examining how domain-general cognitive processes (e.g., attention, working memory, inhibition) affect student outcomes in specific education content areas, such as supporting early numeracy skills in preschoolers and developing fractions skills in middle school students. 
"This year I have gained considerable experience learning how to conduct research in school settings," said Rajan. "I hope to expand my research to investigate the extent that lapses in attention affect the retention of lecture material and the degree to which they predict undergraduate students' educational outcomes."
Rajan and Resnick are currently learning to hone their methodological skills – essential to conducting rigorous studies – while developing the capacity to carry out research independently, present at national conferences, and applying for grant funding. 
"These are wonderfully talented newly-minted Ph.D.'s and they are a true pleasure to work with. We are thrilled to be engaging with such great new minds," said Jordan.
About the faculty
Roberta Michnick Golinkoff is Unidel H. Rodney Sharp Chair in Human Services, Education and Public Policy and professor of education in the School of Education. Her research focus on language development, the benefits of play, and preschoolers' early spatial knowledge has resulted in numerous articles and book chapters and 12 books — including books for parents and practitioners.
Nancy C. Jordan is a professor in the School of Education. She currently has a five-year grant from the National Institute of Child Health and Human Development (NICHD) to develop a number sense intervention for kindergartners at risk for mathematics difficulties. The aim of the project is to develop and test a number sense intervention for children at risk for math learning difficulties. She also is principal investigator of the Center for Improving Learning of Fractions funded by IES.
Henry May is director of UD's Center for Research in Education and Social Policy and associate professor in the College of Education and Human Development. As a methodologist, May specializes in statistical and mixed methods for evaluating the impacts of social interventions and policies. For the past 10 years, May has taught advanced statistics courses to graduate students at the University of Pennsylvania and UD, and served as principal investigator or co-principal investigator on several large-scale studies in educational settings, many of which involved mixed-methods randomized field trials.