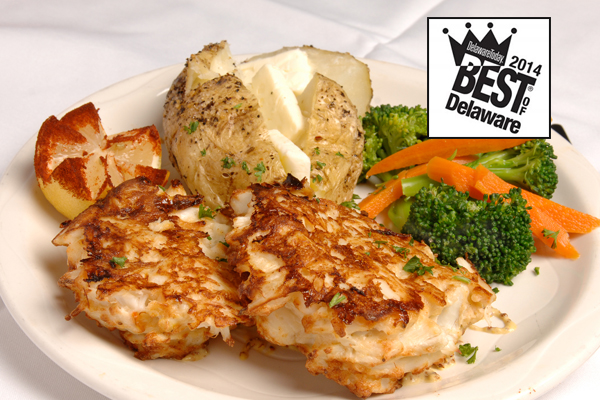 Top crab cakes
Courtyard chef's crab cakes take Best of Delaware honors for fourth straight year
10:57 a.m., June 26, 2014--For the fourth consecutive year, the crab cakes at Marriott's Courtyard Newark at the University of Delaware campus hotel have been named "Best of Delaware" by Delaware Today magazine.
The crab cakes are the special creation of the hotel's executive chef, Mark Chopko, and have become the "signature" dish for the hotel and very popular with guests in the hotel's restaurant, bar and banquet service, according to William A. Sullivan, managing director of the hotel.
National Medal of Science
President Barack Obama recently presented the National Medal of Science to University of Delaware alumnus Rakesh Jain.
Warren Award
Rosalind Johnson, assistant dean for student success in the NUCLEUS Program in UD's College of Arts and Sciences, was presented the John Warren Excellence in Leadership and Service Award during a May 26 ceremony.
This year, the hotel staff will be serving this famous crab cakes at Delaware Today's Best of Delaware 2014 party to be held Thursday, July 17, from 6-9 p.m. at the Chase Center on the Riverfront in Wilmington.
For tickets and more information, go to the Best of Delaware website. 
The Best of Delaware winners are based on the magazine's annual survey of readers and critics are featured in the July issue of Delaware Today.
While his recipe continues to remain a closely guarded secret, Chopko said he is pleased that his tasty treats have made the campus hotel the place to go for crab cakes in northern Delaware.
Chopko said he is excited for the fourth-year honor but most enthused that "first-time hotel guests and local seafood lovers make it a point to stop by the hotel for their favorite crab cakes."
Sullivan said the winning streak is remarkable when one considers the number of restaurants striving to please the palates of customers in an area so closely identified with seafood.