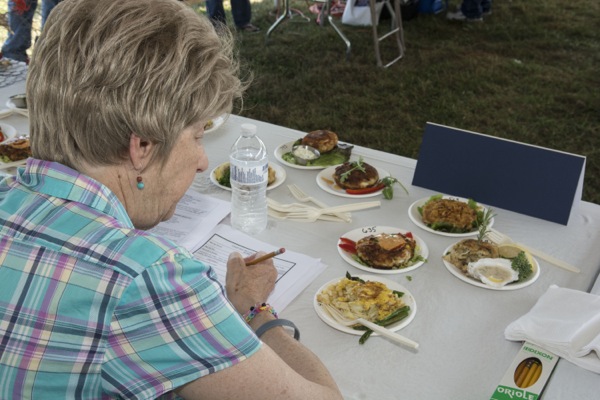 Crab Cake Cook-Off
Recipes sought for 25th annual Coast Day Crab Cake Cook-Off
10:59 a.m., June 26, 2014--The 25th annual Coast Day Crab Cake Cook-Off seeks entrants to compete in the popular Delaware culinary tradition at this year's competition on Oct. 5 in Lewes. 
Recipes must be submitted by Aug. 8, and eight finalists will be selected to prepare their recipes while vying for cash prizes, the privilege of returning as a judge next year and bragging rights for "Delaware's Best Crab Cakes."
From graduates, faculty
As it neared time for the processional to open the University of Delaware Commencement ceremonies, graduating students and faculty members shared their feelings about what the event means to them.
Doctoral hooding
It was a day of triumph, cheers and collective relief as more than 160 students from 21 nations participated in the University of Delaware's Doctoral Hooding Convocation held Friday morning on The Green.
The contest started a quarter-century ago when Doris Hicks, seafood technology specialist with the Delaware Sea Grant College Program, realized that Mid-Atlantic residents passed down their favorite crab cake recipes from generation to generation. 
The winner of the very first cook-off in 1990 was Ellen C. Smith of Rehoboth Beach, who took the top prize with a time-honored take on the dish: crab meat, egg, horseradish mustard, mayonnaise, parsley, salt and pepper coated with cracker crumbs and fried in hot shortening. 
"The recipe that won was very simple," Hicks said. "People love a classic crab cake." 
Since then, Hicks has reviewed hundreds of crab cake recipes from traditional favorites to contemporary twists, like spicy Sriracha sauce as seasoning. Her favorite? Caribbean coconut crab cakes with a peppery pineapple glaze.
"They are so good," Hicks said. "The coconut gives just a little bit of sweetness, and Panko bread crumbs make it crispy."
The winning recipes will soon be compiled in a 25th anniversary edition Coast Day Crab Cake Cookbook to be published online.
All crab cakes must be made from 100 percent blue crab meat. Each finalist will receive two pounds of jumbo lump blue crab meat to use the day of the competition. All other ingredients and cooking utensils are the contestants' responsibility. Judging will be based on originality, predominance of crabmeat, taste and texture.
Recipes must be submitted by Friday, Aug. 8. Download the contest rules and entry form at the Coast Day website or contact Delaware Sea Grant at 302-645-4297 or dhicks@udel.edu for a printed version.
Coast Day is held at the University of Delaware's Hugh R. Sharp Campus, located at 700 Pilottown Road in Lewes, Delaware. Sponsored by Delaware Sea Grant and the University of Delaware College of Earth, Ocean, and Environment, the fun and educational festival attracts thousands of visitors each year and promotes marine stewardship.
About the Delaware Sea Grant College Program
The University of Delaware was designated as the nation's ninth Sea Grant College in 1976 to promote the wise use, conservation and management of marine and coastal resources through high-quality research, education and outreach activities that benefit the public and the environment. UD's College of Earth, Ocean, and Environment administers the program, which conducts research in priority areas ranging from coastal hazards to seafood safety.
Article by Teresa Messmore
Photo by Doug Baker