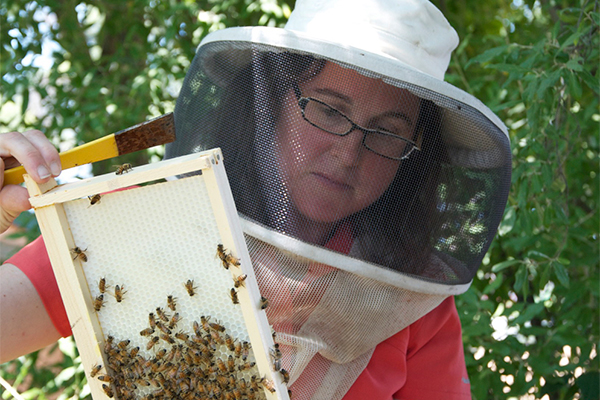 Bee spill
UD professor aids Delaware officials in bee clean after accident near I-95
12:24 p.m., June 16, 2014--It was just a normal night for the University of Delaware's Deborah Delaney, assistant professor in the Department of Entomology and Wildlife Ecology (ENWC), until she received a call from a police officer informing her of a tractor-trailer accident near I-95 near Newark that spilled millions of bees onto the highway. 
Before she knew it, Delaney had gathered her beekeeping gear, called up a friend and headed to the scene to help public safety officials and workers from Harvey's Honey, one of the nation's largest honey producers, with the spill. 
'Resilience Engineering'
The University of Delaware's Nii Attoh-Okine recently published a new book with Cambridge University Press, "Resilience Engineering: Models and Analysis."
Reviresco June run
UD ROTC cadets will run from New York City to Miami this month to raise awareness about veterans' affairs.
The flatbed tractor-trailer crashed the evening of Tuesday, May 20, when it overturned onto the guardrail and released its cargo of honeybee hives onto the ramp from northbound Delaware 896 to northbound I-95. The hives were being shipped from Florida to Maine to provide pollination services. 
Not only were the bees upset about being misplaced from their hives, they had also been sprayed with hoses in an attempt to disperse them so the ones that had survived the water were clinging to every surface available. 
"We were picking up anything that we could, and the boxes were all haphazard. When you'd pull off a box, another box or three would fall," said Delaney. "All the bees would fall out and because they had been spraying them with water, there were bees clinging onto everything. As you were picking up the boxes, you were just grabbing on and inadvertently smushing hundreds of bees as you were trying to lift them up." 
Delaney estimated that officials recovered around 200 boxes in the cleanup and noted that even though there were millions of bees released in the accident, there was never any danger posed to the surrounding communities. 
Delaney said the representatives of Harvey's Honey were fantastic in dealing with the cleanup. "Harvey's really were the heroes of that situation," she said. "Out of their own goodwill, they were out there dealing with this mess under very adverse conditions, so props to Harvey's for sure." 
Busy bees
Having a truck full of bees is a common occurrence this time of the year, as the bees act as pollinators and are shipped all around the United States following the bloom of certain crops. 
"They use the European honeybee and it actually starts around January and February on the West Coast for almonds," said Delaney. "As soon as crops go into bloom, they bring in the pollinators and there's this huge migratory force of honey bees that are used as pollinators and are trucked all over the country." 
This particular truck was just one of many headed north to Maine for blueberry pollination. 
Delaney equated the bees being shipped around the country to livestock, providing an important ecosystem service in the form of pollination. "They're performing a service to us in terms of helping to supply the food that we need and so it's sad for the beekeeper who lost all those bees, and the bees themselves. Is it going to affect the overall population of honeybees in the U.S.? Probably not, but economically, it's certainly going to affect that beekeeper." 
Even the crash itself was not all that uncommon, as Delaney said that she hears of a crash of this nature every year. 
"This is more normal than people realize. It just so happens that one happened in little old Newark this time around," said Delaney.
Article by Adam Thomas