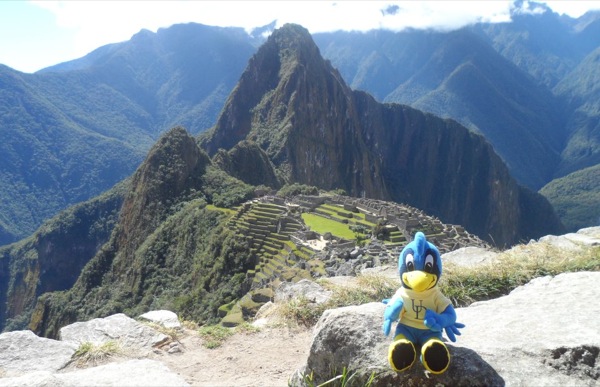 Where in the world is YoUDee?
YoUDee travels the world with University's study abroad students
10:33 a.m., July 1, 2013--This summer, YoUDee goes global as the University of Delaware's Facebook followers try to answer the question, "Where in the world is YoUDee?"
Each week during July, student Global Study Ambassadors from one of the University's many study abroad programs will post a picture of a stuffed YoUDee they brought with them on their trip to the official UD Facebook page. 
Fulbright awards
Three University of Delaware students and an alumna have received word this spring that they will travel abroad as part of the newest class of Fulbright Student Program award winners.
Peace Corps plans
Two University of Delaware students, John McCarron and Bridgette Spritz, have been selected as Peace Corps volunteers and will serve in Ghana and Rwanda.
Using clues in the photo, those at home will be asked to guess, "Where in the world is YoUDee?"
For each picture, Facebook users who answer correctly will be eligible to win a prize, such as a gift card or a T-shirt.
Later in the week, pictures from that Global Study Ambassador's trip will be featured on various social media platforms.