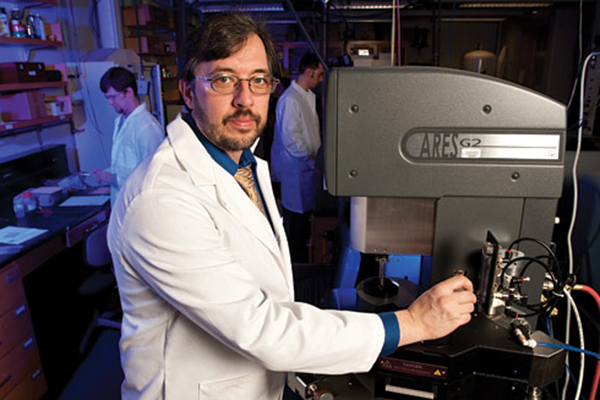 July 19: 'Superheroes'
UD's Wagner to participate in White House Google Plus event on innovation
3:54 p.m., July 18, 2013--The University of Delaware's Norman J. Wagner will be among national innovators included in a Friday, July 19, White House Google Plus Hangout event on exciting new developments in materials science and how they can change the world for the better.
Wagner, the Alvin B. and Julia O. Stiles Professor of Chemical Engineering, will discuss his research on liquid armor.
Chronic wounds
UD's Millicent Sullivan and Kristi Kiick have received a $1.4 million grant from the National Institutes of Health for research that could provide a new approach to the treatment of chronic wounds.
Prof. Heck's legacy
The American Chemical Society is highlighting the legacy of the late Nobel laureate Richard Heck, the Willis F. Harrington Professor Emeritus of Chemistry at the University of Delaware with a digital tribute on its publications website.
The event, part of a "We the Geeks" series, will begin at noon. It is titled "The Stuff Superheroes Are Made Of."
In addition to Wagner, experts will include James Kakalios of the University of Minnesota, Nathan Lundy of Duke University, Zhenan Bao of Stanford University and Nate Ball of Atlas Devices.
Wagner's work with shear thickening fluid was featured in a recent issue of the University of Delaware Research magazine.