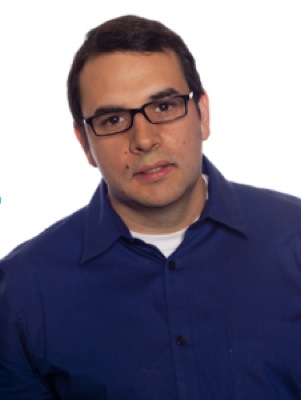 Aug. 8: Undergraduate Research Symposium
Plenary lecture features MIT researcher who makes medical devices from toys
12:36 p.m., July 9, 2013--José Gómez-Márquez, a Massachusetts Institute of Technology (MIT) researcher who uses parts from toys to make affordable medical devices for people in developing countries, will be the featured speaker at the University of Delaware's Undergraduate Research Celebratory Symposium. 
The symposium, set for Thursday, Aug. 8, from 8:30 a.m. to 5 p.m., at Clayton Hall, will showcase the research of more than 250 Summer Scholars at the University through student talks and poster presentations. All are welcome to attend.
Chronic wounds
UD's Millicent Sullivan and Kristi Kiick have received a $1.4 million grant from the National Institutes of Health for research that could provide a new approach to the treatment of chronic wounds.
Prof. Heck's legacy
The American Chemical Society is highlighting the legacy of the late Nobel laureate Richard Heck, the Willis F. Harrington Professor Emeritus of Chemistry at the University of Delaware with a digital tribute on its publications website.
Gómez-Márquez will present the plenary lecture "Hacker Nurses, Legos and the Road to Construction Sets for Health" starting at 1:30 p.m. 
Construction Sets for Health are part of a family of enabling technologies for health and wellness that aim to radically redefine our relationship with devices that we use to heal, into ones we can also learn to invent, according to Gómez-Márquez. 
In the developing world, 90 percent of medical devices are donated, many of them expensive instruments that fall out of service in less than a year and are too expensive to repair or replace.
Gómez-Márquez and his team at the Little Devices Lab at MIT are bringing engineering out of its "black box" to generate new, affordable technology solutions. 
"Here, we hunt for the stealth ingenuity that local health care workers use to solve everyday technology challenges. We learn from their approaches, explore ways to nurture their creativity and create affordable toolsets that lower the barriers of medical technology prototyping," he says.
Gómez-Márquez and his team created the MEDIKit project — a series of construction sets for medical prototyping that doctors, nurses and patients can use to construct drug delivery systems, modular lateral flow immunoassays, low-cost microfluidics and other basic instrumentation. 
In many impoverished areas of the world, nebulizers, which aerosolize medication for asthma sufferers, are available only in hospital emergency rooms. However, using this kit, one can build a foot-powered nebulizer from a bicycle pump at a fraction of the cost (about $7) of an electric-powered version. 
Gómez-Márquez also is working on a number of new technologies, including using parts from a toy helicopter to develop an inhaler for delivering medication to children with asthma, and a disposable cartridge for inhalable vaccine that could make it easier to inoculate children against measles.
The symposium's sponsors include UD's Office of Undergraduate Research and Experiential Learning, the Alliance of Summer Scholar Programs and the Office of the Provost.
The plenary lecture is sponsored by the Howard Hughes Medical Institute (HHMI) Undergraduate Program at UD.