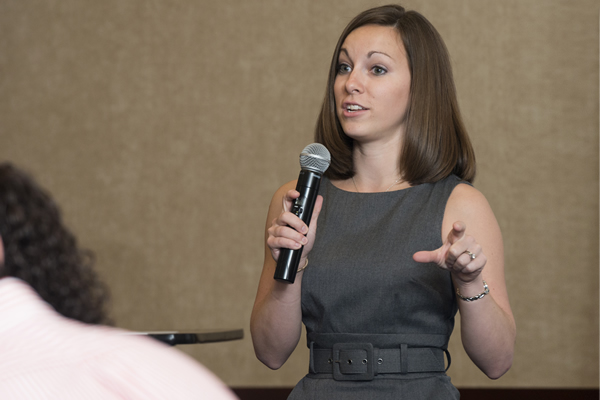 Social media
Program helps businesses implement social media strategy
3:30 p.m., July 11, 2013--Communicating and interacting via social media has become a way of life for anyone with a computer, smartphone or any other connected device. Facebook users around the world number well over a billion; Twitter users around half a billion.
Many businesses and organizations quickly realized they needed to be where their customers are, and it is estimated that at least 15 million businesses, companies, and organizations now have a Facebook page.
From graduates, faculty
As it neared time for the processional to open the University of Delaware Commencement ceremonies, graduating students and faculty members shared their feelings about what the event means to them.
Doctoral hooding
It was a day of triumph, cheers and collective relief as more than 160 students from 21 nations participated in the University of Delaware's Doctoral Hooding Convocation held Friday morning on The Green.
The University of Delaware's Division of Professional and Continuing Studies has developed a program to help organizations who want to use the tools of social media to promote their products and services more effectively.
"There is tremendous potential to leverage social media for nearly every business," says Meredith Chapman, program director and lead instructor for the Social Media Marketing Strategy program. "But social media, and all the tools and platforms can be very overwhelming, so the program will allow participants to learn about all these options and to identify what will work best to meet the needs of their audience and goals of their organization."
The Social Media Marketing Strategy program will cover such topics as how to establish a brand online and determine the right social media platforms; engaging an audience with rich, fresh and relevant content; best practices in crisis management; and how to launch a product, campaign or initiative by using social media to drive action.
Participants will be examining real business cases, cooperating with several organizations in the region who have volunteered to serve as case studies for the program. In the capstone project, participants will combine the tools taught in the program to present a comprehensive strategy for their clients, including platforms, audience analysis, content calendar, management and social media marketing campaigns.
Chapman is a senior news editor at the University of Delaware, overseeing social media as well as regional media relations. Chapman began her career in television as a reporter and producer at WHYY-TV, a Philadelphia-based PBS affiliate, and has also served as a communication manager in the U.S. House of Representatives. Chapman has been nationally recognized for her social media accomplishments and was named a top Social Media Professional by PR News.
The Social Media Marketing Strategy program will meet Wednesday evenings beginning in September, and will be held primarily at UD's Downtown Center at 8th and King streets, Wilmington. Several class meetings will be held online in the form of virtual classroom sessions. The program can be completed in approximately three months.
The cost of the program is $2,195. Through July 18, a 10 percent discount is available for early registration. UD alumni, including graduates of UD certificate programs, are eligible for a 15 percent discount. 
An information session featuring this program will be held at 6 p.m., Thursday, July 18, at the Doubletree Hotel, 700 N. King St., Wilmington. The information session is free, but reservations should be made by calling 302-831-7600 or visiting this website. 
For more information about the Social Media Marketing Strategy program, including a detailed curriculum description, visit the program website or call 302-831-7600.
Photo by Kathy F. Atkinson