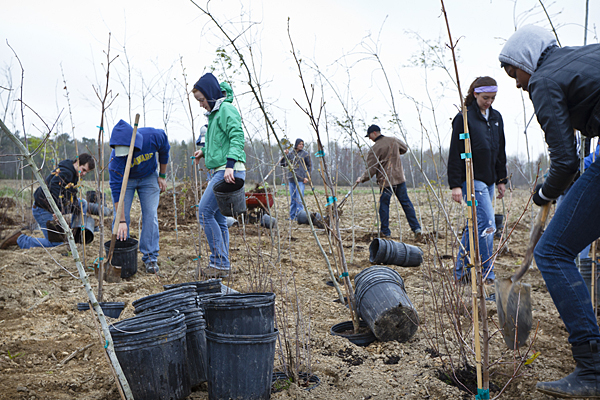 July 20: Reforestation
Field trip set to look at Milford Neck reforestation
9:33 a.m., July 10, 2013--A field trip to look at Milford Neck reforestation will be held at 1 p.m., Saturday, July 20.
The trip is cosponsored by the University of Delaware Department of Food and Resource Economics, the Nature Conservancy and the Society of Natural History of Delaware.
June 5: Blue Hen 5K
University of Delaware graduates planning to attend Alumni Weekend are encouraged to register for the annual Blue Hen 5K walk and run, which will be held Sunday morning, June 5.
June 6-9: Food and culture series
The 20th annual June Lecture Series at the Osher Lifelong Learning Institute at UD in Wilmington will be held June 6-9. Titled 'June a la Carte,' this year's program focuses on great political documents, feminism, world politics and a Newark cuisine sampler.
Thousands of trees have been planted at Milford Neck to convert fields to future forests. The concept of habitat islands, where 5-6 foot trees are planted in a cluster enclosed in a deer fence, is being used. Birds bring in new seeds to help the cluster spread.
In other areas, tree tubes are used to protect smaller tree seedlings from deer. Other seeds arrive with winds. See how the ground is prepared, how the planting is done, what species are used, how to control exotic weeds and how to maximize success. 
A UD faculty member and students have been involved in a carbon sequestration project at Milford Neck.
Car pools will leave from the park-and-ride lot at the intersection of Routes 896 and 4 just south of UD's David M. Nelson Athletic Complex at 10:30 a.m.
For reservations and details, contact Al Matlack at amatlack@udel.edu or 302-239-5383.
Photo courtesy of Brian G. Peters, Nature Conservancy