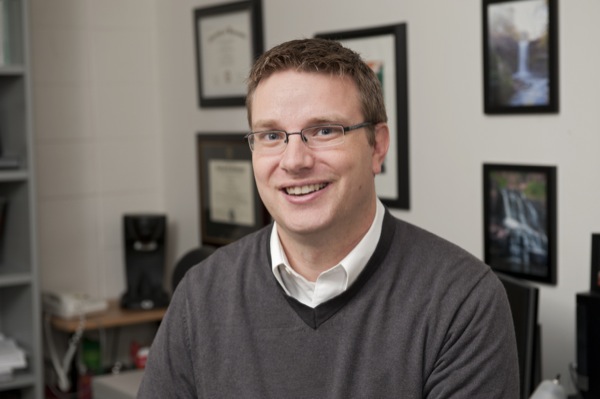 Race and religion
NSF study to examine how race, religion shape American values and opinions
10:31 a.m., July 1, 2013--To gauge the shift in American attitudes concerning race and religion over the past 10 years, Eric Tranby, assistant sociology professor at the University of Delaware, is asking the questions he helped develop a decade ago. 
The survey he worked on as a graduate student at the University of Minnesota in 2003 — the American Mosaic Project — was a national survey of 2,000 people that sought to examine what factors unite and divide Americans through a lens of race and religion.
Chronic wounds
UD's Millicent Sullivan and Kristi Kiick have received a $1.4 million grant from the National Institutes of Health for research that could provide a new approach to the treatment of chronic wounds.
Prof. Heck's legacy
The American Chemical Society is highlighting the legacy of the late Nobel laureate Richard Heck, the Willis F. Harrington Professor Emeritus of Chemistry at the University of Delaware with a digital tribute on its publications website.
Now, funded by a six-figure grant from the National Science Foundation, Tranby is principal investigator on a follow-up study of similar magnitude. 
Working with colleagues from the original Mosaic study, Tranby has developed "Boundaries in the American Mosaic: Inclusion and Exclusion in the Contemporary United States," a nationally representative survey of 3,000 respondents that will examine how race and religion shape the American identity and experience.
"There have been lots of changes," Tranby said. "Are we going to see the same things? Probably not."
The initial Mosaic project explored numerous American attitudes, from perceptions on racial inequality (white respondents thought it was decreasing; black respondents saw it on the rise), to views on religious groups (no religious group was seen as more threatening than atheists).
Tranby notes that the past decade has seen profound social and cultural changes, including the rising awareness of non-religious life, the election of the country's first African-American president and two back-to-back recessions that included a collapse of the housing market. 
"In this era of divisive politics, cultural wars, pundits and talking points, this project will provide rigorous empirical data with which to make sense of how people understand American society, its goals and challenges," he said. 
Tranby and his colleagues are in the process of designing the 2013 survey, which will be administered online in the fall. He expects to analyze and release preliminary findings early next year. 
Photo by Evan Krape